I had no idea what to expect in Belgrade. I'd heard no travel stories or experiences. So we came with an open mind. We've been travelling for over 2 months now and we haven't made many local friends except a few people we've met on buses. So we decided to book a hostel room to mix things up a bit and hopefully meet some fellow travelers. It turned out even better than expected. The crew at the Reveller's Hostel in Skadarlija was very welcoming and made us feel at home. We had barely dropped our bags off before we were off on a pub crawl ending up in a basement beer pong joint tossing ping pong balls and drinking enough that Katy had to take my shoes off after a wobbly walk home. And maybe that's the best way to experience Belgrade with it's packed underground clubs and cheap food spots. It's the people that make the city fun and everyone on the traveler's circuit seems to know it. Sure you can see Tito's tomb and visit Tesla's ashes at the Tesla museum but those were definitely the sideshow here. There's a zeitgeist stirring and I'm glad we got to experience a little of it.
Belgrade felt like a mini New York City, a bit gritty, traffic, crowds, aggressive pedestrians not afraid to smack a car if it turned into a crosswalk, an endless bevy of walk-up pizza joints and corner markets. A social town where every dingy underground bar seems to be packed to the gills every night of the week. And in pretty good spirits.
Skadarlija (Скадарлија)
Skadarlija is a cobblestoned area within the city's old town that's usually described as Belgrade's Montmartre. Which isn't far off. It used to have artists and musicians but now it's mostly tourist restaurants and bars. But it looks cool and it's in a perfect location to explore the city. This is where our hostel was located. The street is primarily pedestrian and paved with large cobblestones, sometimes a bit loose, so you have to watch your footing. Rollerbags are useless. The better traditional restaurants are all clustered here but a bit expensive compared to the rest of the town. We honestly didn't spend that much time here outside of the hostel. There was a large cluster of bars a block away that we hung out in but usually we were walking to town center or other areas.
Belgrade Fortress (Београдска тврђава)
Belgrade sits at the confluence of the Danube and Sava river and high on a hill overlooking the river flats is built an enormous fortress with three sets of walls and elaborate ramparts. These days it's converted to a public space with huge park, sports areas in the previous spaces between the walls, cafes, and vantage points. It's all free except the main tower which we opted not to go up in. They also have vintage artillery on display as well as a line of old tanks and somewhere there was a torture museum that neither of us had interest in seeing. I found all the old fortifications fun to climb around on. They were poorly maintained with lots of broken glass and graffiti and areas vandalized and broken up. But the park itself was very nice. A great lazy picnic spot or an hour amble.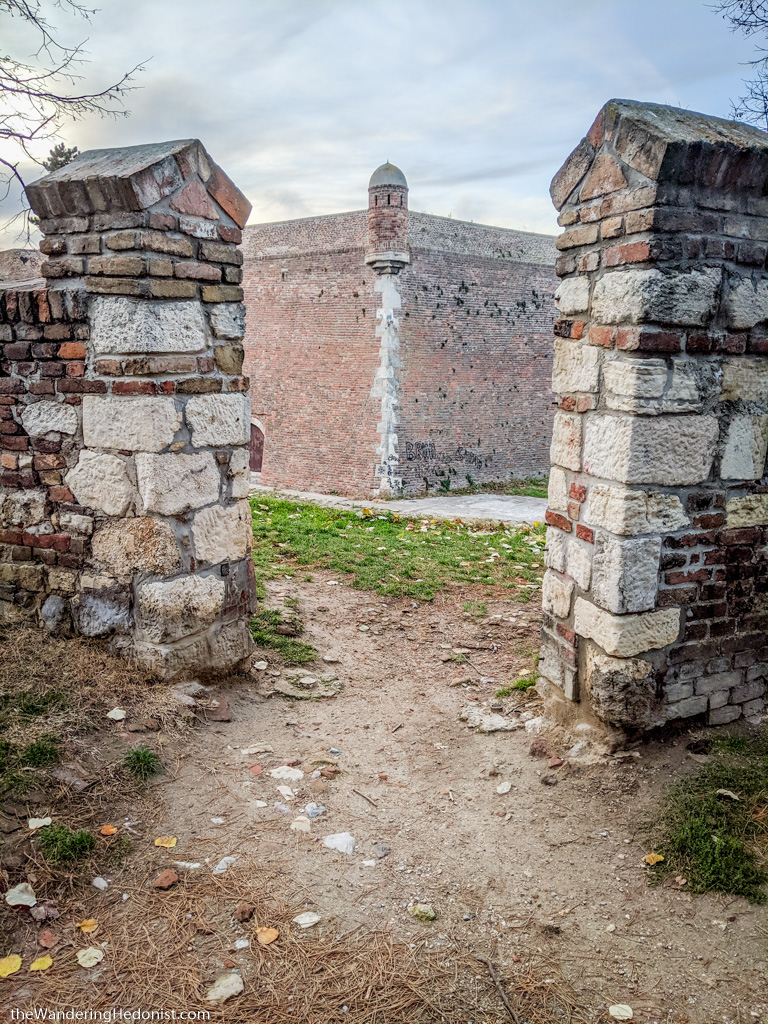 Christmas festival
The Christmas festival is winding up here. Eastern Orthodox celebrates Christmas on January 7th, so it's just getting started. But the main pedestrian walk in downtown was decorated with lots of wooden stands selling Christmas meat and mulled wine/brandy, and lots of treats, with the occasional chestnut roaster. Festive! The ice skating track wasn't up and running yet but coming along.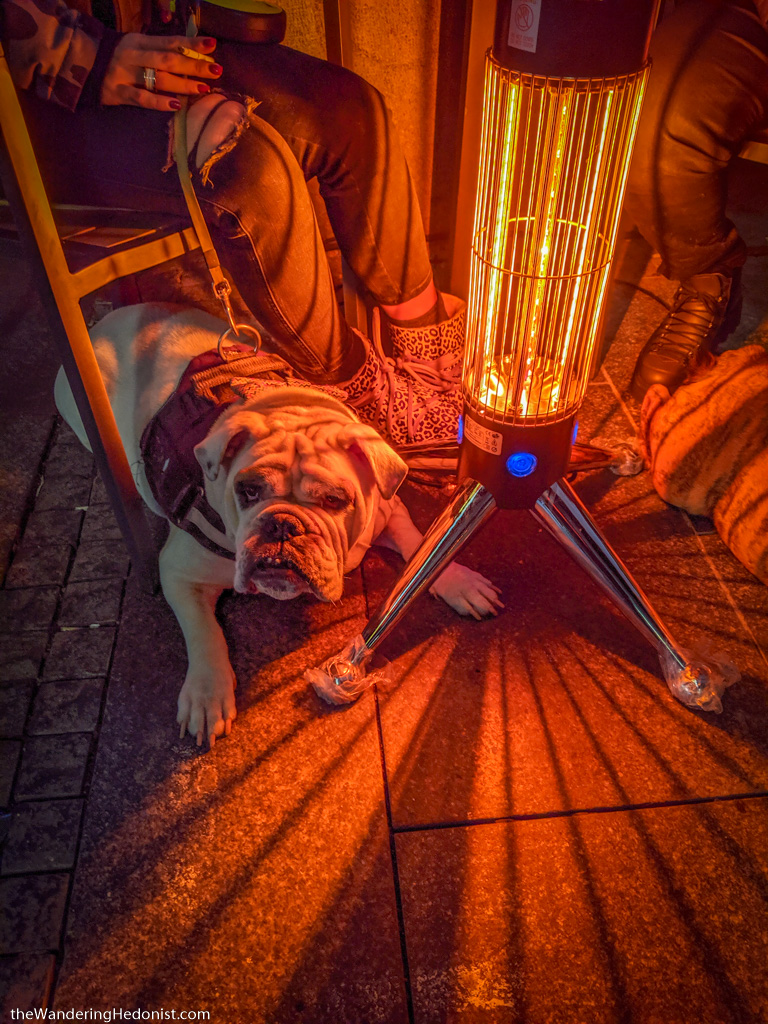 Tesla Museum
Mixed feelings about the Tesla museum. I'm a huge Tesla fan and it was top of my list when we arrived. We visited on a cold afternoon and told tours were hourly but to arrive 30 minutes early to queue up because of the crowds. The museum was small and limited. So queue we did for 30 minutes and then 15 minutes more, a huge line, then late a huge tour strolls up and jumps the queue, apparently they can book in advance but only for 30 or more people. The tour was let in first and then singles waiting outside were let in if there was room. The tour filled all the available seats so we were left to stand. A little frustrating. The museum is indeed small, only the bottom floor of a house. But it does have a few of Tesla's gadgets including one of the first remote controlled devices, a boat (Tesla owns the patent on all remote controlled devices). Also a Tesla coil that they demo. There's a 15 minute movie and a short tour. There's also some of his patents to see and some personal affects like his suit and tools and his glasses, etc. The main feature is that they have Tesla's ashes in a shiny gold sphere on a pedestal. We heard there was an ongoing lawsuit over who should have them.
Tito's tomb
We had heard that this was not that interesting but hey it's Tito so we had to go. We bused to the edge of town near the train station and bought our tickets at the cafe. This included three buildings, the first was Tito's tomb, which was pretty modest for a President-for-life. The same building had his desk and books, a model of his touring train, and a collection of decorative relay batons which he received symbolically every year from all over. There were hundreds of them. Beside the tomb was a long narrow gallery which down one side had the history of communism and Yugoslavia, and down the other displayed Tito's personal belongings. The third building was more modern with temporary exhibitions, currently one dedicated to the 90's conflict, and a couple of art installations. (No photos in the galleries.)
Church of Saint Sava (Храм светог Саве)
From Tito's tomb you could see the enormous Church of Saint Sava, the largest Eastern Orthodox church in Serbia and second largest in the world. It was a bit of hike and when we got there the majority of the church was closed off. The upstairs is still being built. But you can go downstairs which has beautiful artwork with gold leaf and pillars. Worth the visit. Free to get in.
St. Mark's Church (Црква Светог Марка)
We swung by St. Mark's church on a whim. It's free to get in. Massive pillars and modest walls with an enormous gold mural behind the altar. I thought it was cool.
Food in Belgrade
There is a wide range of food options in Belgrade from tasting menus to super cheap street food. Honestly we were in bar crawl mode most of this visit so we were firmly in the cheap street food camp. I don't have many actual restaurants to suggest but that's not to say we weren't well fed and happy. There's a few different types of pizza here but we really liked the giant fluffy slices we saw all over. One night Katy tried to eat two slices but regretted it. Sausage joints are every where, along with kabob joints. We also found a more asian places here than all of the rest of the Balkans combined. There was a large influx of Chinese immigrants in the 90's and the food mix shows it. We were never far from a super cheap wok joint. Nothing to write home about but yummy and filling and a welcome change from grilled meat and civapi.
Interesting observation: locals douse their pizza slices with ketchup and sometimes mayonnaise. Conceptually it makes sense but I went sans ketchup.
Street art
Graffiti was everywhere in Belgrade. Some of it tagging but lots of great pieces and a decidedly more political slant than most other towns we've been in. And even the name based work was creative. I really liked this series of vegan and anti-fur graffiti someone was doing. It was everywhere. Vegan seemed to be a thing here unlike most places in the Balkans.
Other photos