Sarajevo was a pleasant return to a metropolitan area. The bars were lively and the food was everywhere. Cheap and local food was plentiful and you got your pick of upscale and fast food too. Old town was where everyone came to party and the shops that lined the streets, though obviously touristy, retained their charm and broader practicality. Twisting lanes of craftsman shops winding around mosques and old cathedrals. It felt good in Sarajevo. The Christmas decorations had gone up and people were out exploring the midtown festivities. And if you squinted a bit and used a bit of hopeful nearsightedness, you could almost forget that the town had endured a 44 month siege (the longest of a capital city in modern history).
I purposefully abstained from documenting any war damage. There's enough good things to look at.
Sarajevo, the newer bits, were quite modern and embraced art and design. Interesting bridges and public sculptures and even decent graffiti (always a good sign). The town center is lined with big shiny buildings and bustling with people and traffic. They have buses and a cool old trolley system, but honestly everything was in walking distance, we didn't need to use them.
Baščaršija – Old town
Unlike many of the old towns we've been staying, Sarajevo's old town was very lively and central to the town's party scene. Many of the coastal walled old towns were pedestrian only and impossible to park nearby so the locals tended to stay away. But here old town is in the middle of the city adjacent to the modern town center. It still bustles with the feeling of a functioning town market, winding alleys with their own theme, one full of jewelry shops, the next packed with intricate Turkish coffee sets, the next full of sweets. And all sorts of burek shops and coffee houses. There's definitely a feeling of cultural blending here.
Latin bridge
The latin bridge marks the old town center where it meets the river running through town. It's a cute bridge but compared to the architectural masterpieces of Mostar it seemed modest. It seemed curious that it got so much attention until I realized this was the spot where Archduke Franz Ferdinand, the heir to the Austria-Hungarian empire, was assassinated by a member of The Black Hand, a group of assassins from the Young Bosnia group dedicated to Slavic independence from the empire. Earlier that day of his arrival an initial attempt was made on his life when a Black Hand member threw a bomb at their car destroying the car behind them. At the insistence of the Archduke, they were on the way to visit the victims of that bombing. While turning the car around at the Latin bridge, Gavrilo Princip, sitting at a cafe, noticed their stopping, ran out, and shot both the Archduke and his wife with a .380 handgun, killing them both. This in turn sparked the declaration of war against Serbia by the empire, which then pulled the allies of each into World War I. The Serbians viewed this as a heroic act and erected a museum to him, a plaque in the spot of the assassination, and in cement the footprints of where he was standing. Later the independent Bosnia Herzegovina removed the footprints and converted the museum but the plaque still exists.
Christmas in Sarajevo
It's fun traveling during the holidays. The town has decorated and things feel festive!
Outside of old town.
Sarajevo is a medium sized city, about 555k people in the metro area, but is fairly dense. The city sits in a valley so there isn't much land. Outside of old town you find tall buildings and large brutalist housing blocks. It feels larger than it really is. But that gives a nice metropolitan vibe that we haven't encountered in a while. Split was technically larger but the majority of population lived outside of the downtown area so you didn't get to experience it much.
The ghost of Olympics past.
It's interesting to think of Sarajevo hosting an Olympics in 1984. It's a huge honor given to cities capable of accommodating such a large event. Which gives you a hint to the city's presence internationally before the war started here just 6 years later. Sarajevans held a vote to volunteer 2% of their income over 4 years to build the facilities.
There was an 89% turnout with 96% voting yes. The event held deeply invested pride. When the war began, the Serbs targeted the Olympic facilities first.
The cable car built to move people to the winter sports facilities on the nearby mountains was destroyed in the war and only recently was it rebuilt in 2006. Katy and I took the trip up to see the Olympic ruins. Besides the cable car facility, the mountain top was still pretty desolate. Narrow mud caked roads led down the side of the mountain and we struggled at first to discover any trace of the event. We eventually made our way to the bobsled track which has fallen to ruin. Graffitied and crumbling, it's difficult to imagine the people and the fanfare that once existed.
Inat kuća
Inat kuća roughly translates to House of Spite. A home owner refused to sell his home to make room for the new city hall, so he forced the government to move the house stone by stone across the river as an exact replica. His gesture has become a point of pride for Bosnian stubbornness. Later the house was turned into a restaurant serving local specialties and it has a solid reputation for the Bosnian classics. It looks pretty cool inside too. We both had the mixed plate to try a little of everything.
Klopa
I found Klopa online. It was #2 on trip adviser and came recommended by a few food websites. It's right on the main old town drag. The service was exceptionally friendly and we were nudged toward the daily special of local organic lamb chops and steak with potatoes and salad. Our waiter said everyone was having it and as we looked around everyone was indeed having it. Although I'm not sure how much his peer pressure had to do with it. We luckily relented and enjoyed a great meal. The lamb was tender and delicious and the steak was cooked a true medium rare. If you're looking for decent food and a comfortable atmosphere I recommend checking it out.
Čajdžinica Džirlo
During my research this little tea shop kept popping up as a favorite experience. There are tea shops all over town so I wanted to know why this one was special. We passed it on the walk up to the yellow bastion and stopped in on the way back. And now I get it. It's a tiny shop with loads of character. On our first visit we stayed downstairs and chatted with a student from the US. The shop owner was very knowledgeable about the tea and walked me through the Bosnian coffee ritual in great detail. She also introduced me to a new drink that I now love, salep (more on that later). On our second visit we climbed the tiny stairwell to the loft above, a cozy space with low couches and small stools all the way across the space. A stained glass skylight and odds and ends tucked around. It had a great mood. And the music pulled it all together. I got the same thing, a Bosnian coffee and a glass of salep.
Salep
Salep is new to me but is a popular Ottoman drink. It's as hot drink made from the powder roots of orchid plants and mixed with milk and stirred rapidly until it foams and becomes thick. The Romans drank it by the name of satyrion and it was popular in England and Germany before tea and coffee was popular.
The roasted orchid root powder is sweet and they add a few other spices to give it character. You drink it hot. The orchid makes the drink thick so it holds the air in a frothy kind of way. And it coats your mouth and throat in a thin film that kind of gives your insides a hug. I loved it.
The word salep is a romanized Arabic word for a particular orchid, literally "fox's testicals". This particular root looked like a set of testicles and hence it was considered a powerful aphrodisiac. In England it was called saloop and the substitution of local orchid roots, know as "dog stones" was acceptable.
Due to shortages of wild orchids the export of true salep root from Turkey is now illegal.
Sarajevska Pivara
On our way to the old Olympic cable car, we passed the Sarajevska brewery (it's the local beer) and we stopped in for a pint and some lunch. The bar was enormous and really cool. A long dark wood bar with brass fittings and an open high ceiling with a second floor balcony encircling the space. It was basically empty at this time of day so the service was attentive and I had a pint of Sarajevska "light" in no time. Light in this context means not dark. It's just their normal beer. They also have a dark beer and a cut beer that's a mix of the two which turned out to be my favorite. I ordered the roast veal knuckle which was enormous! I had met my match. The server removed the bone table side and plopped down a giant platter of glistening veal meat and a mountain of potatoes. Katy helped me a bit but we finished the rest off as our dinner later. We returned after our mountaintop adventure for three more pints and exceptionally good wifi.
Restoran Apetit
I found this place online as well. Everyone seemed to rave about it. So we wagered a lunch and tried it out. We were there for a late lunch so we had the place to ourselves. I ordered the lamb muscle with pumpkin and Katy had the tuna steak. Good meat, good sauce. The music was good. I liked it. It wasn't as cheap as the other local options but I assume most people would walk away completely satisfied. And I could finish the portion without much distress.
ASDž
We walked by this place and made a note to return. It's a simple place off the touristy walk near the City Hall side of old town (there are two with this name, look for the one that's "ASDž" not "ASDŽ Aščinica"). In the window they have three peka contraptions on chains and covered in coals. This is also the traditional way to cook burek. It's essentially a burek joint but they also serve roast chicken, veal, and beef cooked in a peka style and then portioned individually. It's less hassle than a made to order serving. Cooking burek this way also makes it more crispy and less greasy. I honestly haven't liked any burek I've tried so far and this was the first I did. We ordered a serving of chicken with potatoes (amazing potatoes), beef, and a sampler of the burek offerings including cheese, spinach, potato, potato with sour cream, and stuffed with meat sausage. The green flag for this place was the nearly all local crowd that congregated there. They know what's up. We had all three dishes plus two waters for less than 24hk. That's about $12.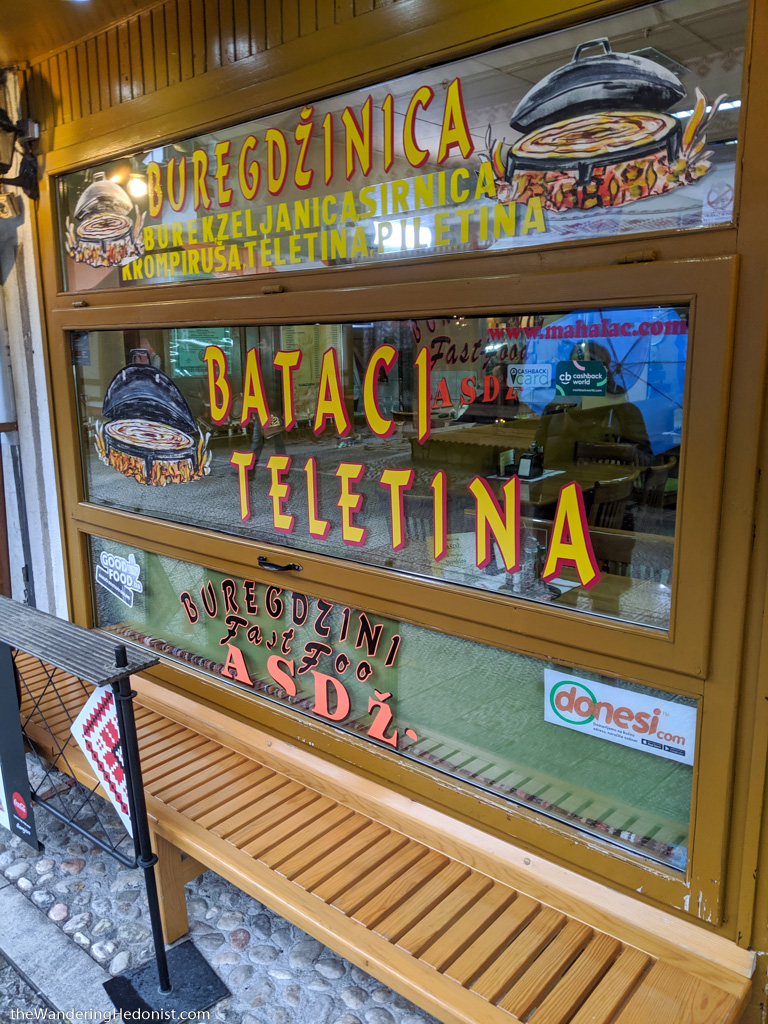 A peka dome!
They use these to make peka dishes and if I was on vacation I would have bought a suitcase and brought one of these home with me! It's essentially a dutch oven but bell shaped on the top. Which is important to circulate the juices as it roasts. And they look bad ass. I'm sad but I had to keep walking.
Treats
I started seeing these little tubey things around and had to try one. They come in all sorts of flavors, I chose pistachio. You say how many pieces you want and they snip the tube into little chunks with scissors. It tasted like something between taffy and marshmallow. It didn't stick to your teeth but more dense than a marshmallow. The chocolate didn't have much flavor but the pistachios were pronounced and yummy. I only tried the one. Curiosity satiated.
These punk ass crows.
The crows in Sarajevo were different. I mean they look different and are a bit bigger. But they seemed more ballsy and aggressive. Like they've seen some shit. Our first day I saw two of them eating a whole pigeon. Like there were feathers everywhere and they were ripping hunks of meat off. Ever see that?