I first visited Eugene (pronounced /yoo-JEEN/) in 1997 while driving around the country, I've told that story before in my post about the Oregon Country Fair. But the short version is that we happened to be driving through Eugene on the Friday of the fair, which I had never heard of, and followed a few VW Vans full of hippies off the interstate into Eugene. I had travelled down the coast from the Olympic Peninsula and the entire area felt like home to me. Standing in the magically green tinged forest grove next to an enormous drum circle, the dust from naked dancing feet lifting up into the beams of sunlight, this sort of joy that wanted to hug you, I felt momentarily relieved of the thorny armor I had always worn through the world. This celebration of feyness. These were definitely my people.
When I moved to Seattle, I was looking for a bigger city with a gritty underground. I still had a lot of rage and sorrow. But these days the feel-good community vibe and ultra-green mindset are beginning to appeal to me as a lifestyle. I could easily see myself dropping some change for a small house, maybe in the Friendly neighborhood, with a large enough backyard for a decent sized vegetable garden, spending my off hours volunteering downtown.
This time I wanted to see what it was like to live in Eugene. Because when I finally do have to settle for a while, this might be place.
A bit of history.
The area now called Eugene was originally inhabited by the Kalapuyans (aka Calapooia or Calapooya) who had inhabited the area for over 10,000 years. The specific group who lived in the Eugene area were called the Chifin Kalapuyans and they called their home Chifin. By the early 1800's French fur trappers had begun to live seasonally in northern Willamette Valley and take native wives. By 1828 they began to stay full time with their now mixed families. There were around 15,000 Kalapuyans living here then.
In 1830, the US ship Owyhee captained by John Dominis brought what is today thought to be malaria to the region, along with smallpox and other diseases. Over the next 10 years over 92% of the local population had died from these diseases. Their communities were shattered and the demographic balance was shifted hopelessly towards white settlers.
Eugene Skinner arrived in the area in 1946 along with 1,200 other settlers, building a supply depot and post office, around which a small settlement grew on what is now called Skinner Butte. Skinner moved the settlement into the now decimated lower native regions in 1853 naming the city after himself, Eugene City, incorporated in 1862, and renamed simply Eugene in 1889.
By 1856, white settlers had completely taken over the area. The remaining Kalapuyans were forcefully rounded up and imprisoned on distant reservations and a strict apartheid was established. People of mixed ancestry were forced to choose their identity, Europeans were not allowed to enter the reservations, and natives were not allowed to leave them.
Despite the same horrific beginnings as most US cities and communities, Eugene has become synonymous with political activism, especially against popular war movements, globalization and corporatocracy, and most recently racial injustice. There's a very communal vibe here with the old hippies and the young energy from the University keeps the dialogue charged and new.

Walking around downtown.
Even though I've stayed in Eugene probably a dozen times over the years, I had never ventured very far into the city. There's a main drag leading from I5 and the 105 loop across downtown and towards Veneta where the fair is and also where most of the hotels are, so that area I knew well, but the city is quite large with many distinct neighborhoods and lots of natural beauty to experience. That throughfare is also very commercialized and west of the real downtown and I had missed the artistic flavor of the real downtown area.
Here you will find a nest of interesting shops, food trucks, and tattoo shops mixed with parks and loads of murals, and vibrant commercial zones populated by entrepreneurial locals. A small town vibe with an uncharacteristically liberal bend.
There's a homeless problem here, like every major US city right now. But unlike Seattle who violently expels homeless camps and aggressively impounds and destroys tents and other possessions, Eugene provides basic human services like portapotties and garbage services.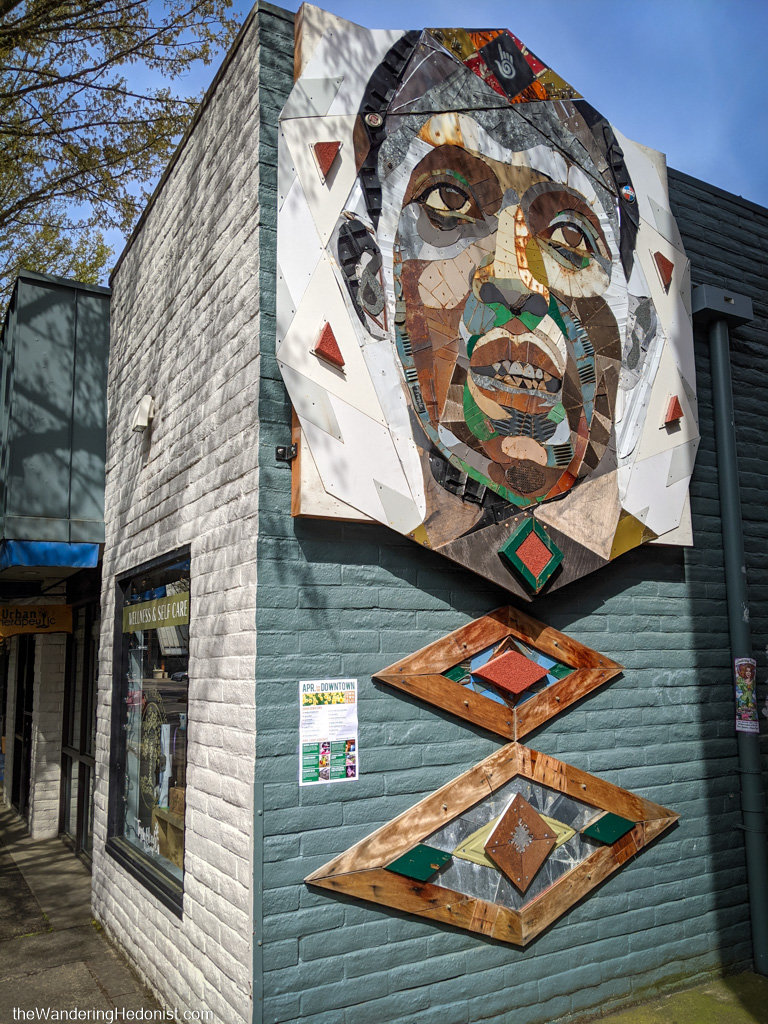 Eugene Farmer's Market and Saturday Market
As you would expect, Eugene has an active downtown farmer's market and a craft market in a separate location which takes on a festival atmosphere. There's even a huge drum circle that seems to go on all day populated by a broad generational collective of townsfolk.

5th Street Public Market
Near the end of 5th Street north of the main downtown where the Farmer's Market is currently living, there's a newer shop collective called the 5th Street Public Market, a multistory building with open internal courtyard and fountain, a gourmet food store and kitchen store, a florist, both tourist-style and clothing type stores, and a variety of restaurants in both a nicer food court type area, and stand-alone places. I wish we had visited this area sooner.
After the covid restrictions had lowered a bit I booked a dinner at Marche, a nicer French place in this building.

Marche
Marche is a french restaurant in the back of the market house with decent food.


University of Oregon and Pioneer Cemetery
We walked through the UO campus one day, which is quite beautiful with lush lawns and massive trees, but honestly I didn't take many photos. It was desolate from the school closure so we just strolled around a bit. Oddly a large portion of campus is a massive Pioneer graveyard with turn of the century stones plump with moss and lichen.
Also of note, the movie Animal House was shot almost entirely on campus with a few scenes shot nearby. The external shot of the Delta house has been demolished but most of the other locations were just as they were. I have a section at the end of this blog with pictures of the filming locations.

The Whitaker Neighborhood
North of downtown primarily west of the 105 connector is the Whitaker neighborhood. It used to be a sketchy warehouse district that was populated by independent breweries and artsy anarchist types but has grown into the trendy spot to gather and drink microbrews and eat amazing food truck food. This is also where you'll find the densest homeless camps, under 105. So the neighborhood is both a bit chic and shady. But it's growing rapidly and all of the normal signs of gentrification are appearing. We had a great time here walking around and enjoying the murals, drinking great beer and ciders, and sampling the food. You might recognize the Ninkasi brewery that makes its home here.

Oakshire Brewing Public House
Oakshire is a great Whitaker brewhouse serving their own beers with lots of outside seating. I loved that they had these menus on the table from various local foodtrucks that would deliver your food directly to your table.


Wildcraft Ciderworks
If you like your cider dry, this is the place. We ordered 10 ciders in two flights and all of them were pretty damn dry. Almost so much that I had trouble telling them apart. But Katy is a big fan of the dry ciders. They also had fruit based liquors that were quite good but a bit spendy.


The Friendly Neighborhood.
By pure serendipity we booked an airBnB on the W28th/29th corridor right on the edge of the Friendly neighborhood (yes that's a real neighborhood), College Hill, and a short walk to the Amazon neighborhood, which couldn't have been a better spot. The friendly neighborhood is a charming residential with a small center on Friendly Street with a food truck court including a beer truck, a small organic market with fancy cheese, a weed shop, and a Dari Mart, and Friendly Park a block away. We really loved it here. A short walk down W29th to Willamette Street you find a Market of Choice (a bit like Whole Foods), a liquor store, butcher, like 5 more weed stores, pharmacy, a great Asian grocery, a Big 5, and a variety of restaurants and shops.
Masa's YATAI Japanese cart
We spent a lot of time at the Friendly food truck court and especially loved Masa's YATAI Japanese cart. I probably ate here more than anywhere else. Here are a few things we tried.
Tam's Place Vietnamese Cuisine
Another foodtruck we loved, technically across the street from the court area, was Tam's Place Vietnamese Cuisine. A basic selection of Vietnamese dishes that always sounded good.
The College Hill Neighborhood.
Between the Friendly and Amazon neighborhoods you'll find College Hill, a pleasant residential built around a tall hill crested by a reservoir. Before UO, the town's first college was here but after burning down a few times, they decided to not rebuild it.

Viking Braggot Company Southtowne
A nordic themed brewery and bar on Willamette Street with "nordic" pub food and a decent selection of domestic and imported aquavit.


Getting our Covid-19 vaccines.
One of our main focuses for booking two months in Eugene was to get our covid vaccine shots. They had just opened them up to our age group on May 17th and we were lucky to find an open slot with a community group downtown that was distributing the Moderna version. It was a lovely experience. Volunteer run and quite welcoming. It was in the WOW community center and they had a live band playing while you waited. The time worked out perfectly and we'll be fully awesome by the time we leave Oregon, allowing us the freedom to travel internationally when available.

Hendricks Park & Rhododendron Garden
If you ask your local shop clerk or Uber driver where to go in Eugene, they'll most likely include Hendricks Park, a hillside park with picnic spots and trees, and just north, the Rhododendron garden that everyone seems to love. From Hendricks, you ascend a series of trails ringing a steepish hill that's been planted with flowering varietals, most notably the rhododendrons which were in peak bloom in late April and early May. And right at the top is a flat spot with cushy lawn to lounge around on.
Mount Pisgah Arboretum
Just past the Amazon neighborhood, past the Lane Community College, over I5, and a short drive into the woods, you'll find this interesting arboretum. It looks more like someone's donated farm than your traditional arboretum, complete with a huge barn. The area is quite wild and less curated. But that doesn't make it less beautiful. There's a hillside with trails leading through forests, and a flat area through which a river flows and an area of marshes, plus oak savannahs. Every now and then you'll find educational installations and a nice marsh viewing area and a wild flower garden. There's a parking fee but lots of space.

Springfield, OR
Apparently Matt Groening (creator of the Simpsons) was born in Portland near Eugene which is bordered by the small town of Springfield where he drew some of his inspiration. I had no idea. He admitted in a 2012 interview that Springfield, OR was his original inspiration for the name but local legend seems to have grown attributing all sorts of local spots as inspiration. The owner of a local bar called Max's Tavern claims to be the inspiration for Moe's Bar. He's even quoted in many articles talking about Matt drawing often in his bar while in school. Except Matt went to school in Olympia 223 miles away and moved to LA immediately afterwards. So I'm thinking that story is probably a load of shit.
We decided to visit Springfield to see the big Simpsons mural and discovered a host of characters hidden around in various alleys. Unexpectedly fun.
Most of these murals are created by a local freelance muralist, Bayne Gardner, who has murals all over Eugene, several of which are pictured in this post. After browsing Bayne's instagram feed (@baynegardner), I now realize we missed about half of the murals hidden around town. He needs to create a map.

Animal House
After passing on being the Graduate filming location and regretting it, the UO campus enthusiastically agreed to host the movie Animal House for their college fraternity comedy released in 1978. Starring the likes of John Belushi, Donald Sutherland, and Kevin Bacon, the film was a major success and is considered a comedy classic. The majority of locations were directly on the UO campus with a few nearby locations used for the roadtrip bar scene, shot in Dexter, and the parade finale, shot in Cottage Grove.

You can also see the location where the ROTC is training and the golf ball scene, the kitchen where the golf ball comes through the window, the stadium makeout scene, and the old Food King shoplifting scenes in what is now a Market of Choice, but I didn't make it over to them. There's a decent map provided by the school of locations.