Honestly, when it comes to northern European food, I hadn't heard good things. But I have to say I fell in love with traditional Dutch food. Tasty bar snacks, hearty home-style meals with long simmered meats, a variety of cured fish, hunks of rich meat and cheese, good local liquor, unhealthy things to eat drunk and healthy things to eat sober. I didn't have enough hours to try it all.

Bitterballen

On the not-so-healthy end of the spectrum. Bitterballen is minced meat mixed with a thick roux and fried into balls. The contents are rich, delicious, and potentially damaging if eaten too quickly. I lost a significant portion of the roof of my mouth to an excruciating bitterballen accident in a bar on the way home. A must try. But make sure you have a beer or other beverage before digging in.


The herring stand


Few things are more Dutch than the herring (haring) stand. It sounds a little wierd but trust me it's delicious. A soused herring raw on a plate served with raw onions and pickles. You drag the fish through the onions, hold by tail, then eat. It's not fishy, it's not really like sashimi, it's rich and soft but with a bit of a bite left. It's excellent. I could eat this every day.




In the summer, you can find these Frens Haringhandel stands all over town. The main attraction is the haring but they have a whole menu of tasty things. Brado (a brand of smoked herring), smoked eel, raw oysters, kibelling (fried bits of cod of similar fish, derived from kabeljauwwangen (cod cheeks), traditional waste from the cod fisheries), mackerel, peppered mackerel, smoked salmon, and dutch shrimps.


In the winter you can still find these indoor haring stands with the cured products. This one was right around the corner from my hotel. Pretty much packed all day long.
On my first trip to Amsterdam I missed my chance to try the smoked eel (gerookte paling) so when I returned it was first on my list. This stuff is rich! It's delicious but I barely could finish this plate and I felt completely burned out on savory food for the rest of the day. I recommend half eel, half haring. Or a sampler if you can find it.
Frites

It seems like such a simple thing but frites done correctly can be the absolute best drunk food in the world. Hot, crunchy, slathered in Dutch mayonnaise (which is not like American mayo), with these tiny plastic frites forks. I had this like every night. No joke.
There are an endless array of toppings to go on your frites. Everyone has their own style. There's tried and true frites with mayo. The baseline. I got this first.




My favorite style is a dutch specialty. Frites Oorlog. Mayo, satay sauce (a spicy peanut sauce), and onions. Especially good after a visit to a coffeeshop.




And if you really hate yourself there's this unholy thing of a foodstuff. The frites hotdog box. Start with a box, add a few vienna sausage quality hot dogs, fill with frites, add oorlog toppings. This was a bit much even for me. Notice the upgrade to larger fork.




This was my favorite frites joint. Chipsy King. They're all over and open late. It's like a delicious orange beacon of hope.


Pub treats around town

Pretty much any bar you go into is going to have a variety of tasty nibbles. I barely scratched the surface.
In the Netherlands, gouda is king. That's pretty much the only cheese you'll find here. It's quite good chunked up with mustard and pickles.




These little sandwiches are called toasties. This one is filled with spicy mincemeat.


Van Kerkwijk

Van Kerkwijk is a small cafe tucked away in a quiet back-alley in the middle of the Centrum. There's no menu, you get the day's specials from the waiter. Great wine, amazing house-made bread, everything is delicious. I found this place early on and went back here more than anywhere else. I especially fell in love with their pate salad. Which is just a salad, bread, and house-made pate. But fuck is it delicious. Get this, seriously. I could probably eat this one dish every day for lunch.


Haesje Claes

Haesje Claes is a terrific spot in the Spui to sample all manor of traditional Dutch food. The restaurant is quite lovely, dark wood and a real traditional vibe. It's well known but that doesn't detract from it's charm. They also have samplers so you can try a variety of dishes in a single meal. Plus a variety of local beers and jenevers.


The stamppot is a pillar of traditional Dutch food. It's potatoes mashed with other vegetables, usually onion, cabbage, or carrot. To this different meats are added. This is a hotchpotch (hodge-podge)
stamppot
which includes a meatball, bacon, and sausage with pickles and pickled onions. When made with carrots and onions like this it is also called hutspot.
Upstairs Pannen Koekenhuis

Pannenkoek is a traditional Dutch pancake, thinner than an American pancake but thicker than a crepe, and up to a foot in diameter. You can get them topped with either sweet or savory toppings.
The Upstairs Pannen Koekenhuis is a tiny restaurant along Grimburgwal that's famous for pannenkoek. The stairs to get there are the steepest stairs I've ever seen, even by Amsterdam standards. It's more like a carpeted ladder. The second flight is almost straight up and the handrail is vertical. The space is small too. Supposedly the smallest restaurant in Amsterdam. With only four small tables. Three tiny two-seaters and one four-seater. You need to call for a reservation as there's always a list.


Blauwe Pan

Blauwe Pan is a traditional jenever tasting house in the Jordaan, also serving traditional Dutch food. Great atmosphere and great people. A real cozy spot to knock a few back.
Jenever, by the way, is a traditional Dutch liquor. Though similar, it predates gin. And unlike gin it comes in a few styles and in lots of flavors. I prefer the old style jenever (which refers to the style not actual age), and I like it also aged. Other than Bols (which is not very good in my opinion) it's quite hard to find in the states. I made the mistake of not importing any on my first trip and brought about 5 bottles back on my second.


Wolf Atelier

Wolf Atelier is an amazing discovery. Chef Michael Wolf has built a beautiful restaurant on a 1920's industrial railway bridge sitting high above the river that you access through a narrow pedestrian bridge. The service was wonderful, the courses were thoughtful and well executed, both delicious and connected to traditional Dutch food but with a new take and a clear voice. And with 15 intricate courses for only 70 euros, you can't beat the value.

See my full post on Wolf Atelier.


Five Flies

Restaurant d'Vijff Vlieghen (translated to Five Flies) is a bit more upscale take on traditional Dutch food. They offer a tasting menu set which can be adjusted from 4-6 course by removing some of the more interesting dishes at a lower cost. The restaurant creator inherited five traditional houses in the Spui neighborhood which he combined into a single establishment, each dining area a connected maze of cozy old world spaces and gorgeous old wood architecture.
The ambiance is fantastic. The food is less impressive for the price. I do like that the courses are based on or reference traditional Dutch preparations. But I get the feeling that years of resting on their laurels and producing for a largely tourist clientele has made them a bit lazy and less thoughtful than if cooking for the locals.
It's an experience worth having but don't expect the same level of excellence one might find at other modern European tasting menus. But I liked it enough to return on my next visit to see what had changed.
The chairs are adorned with brass plaques of the names of famous people who have sat in the chairs.

My first meal there was in 2016. I was quite excited and being alone got tucked into a small table on the second floor in what seemed like the previous kitchen to the house. All of the spaces are romantic with traditional elements of the houses preserved or collections of interesting things.


The second time I visited Five Flies was in late 2017. The meal was slightly less impressive than my first go.


Restaurant Daalder

On my second trip to Amsterdam I ended up going to a high end tasting menu place called Daalder, touted as one of the best restaurants in the area. The food was good but suffered from the same ails as many established restaurants. The dishes were quite classic but the presentations were labored to present a modern face. They were pretty but lacked a sense of ingenuity or depth. I enjoyed the food but was not inspired with any particular vision. But my bar is pretty high these days. I can't find the menu so I'll just present the images.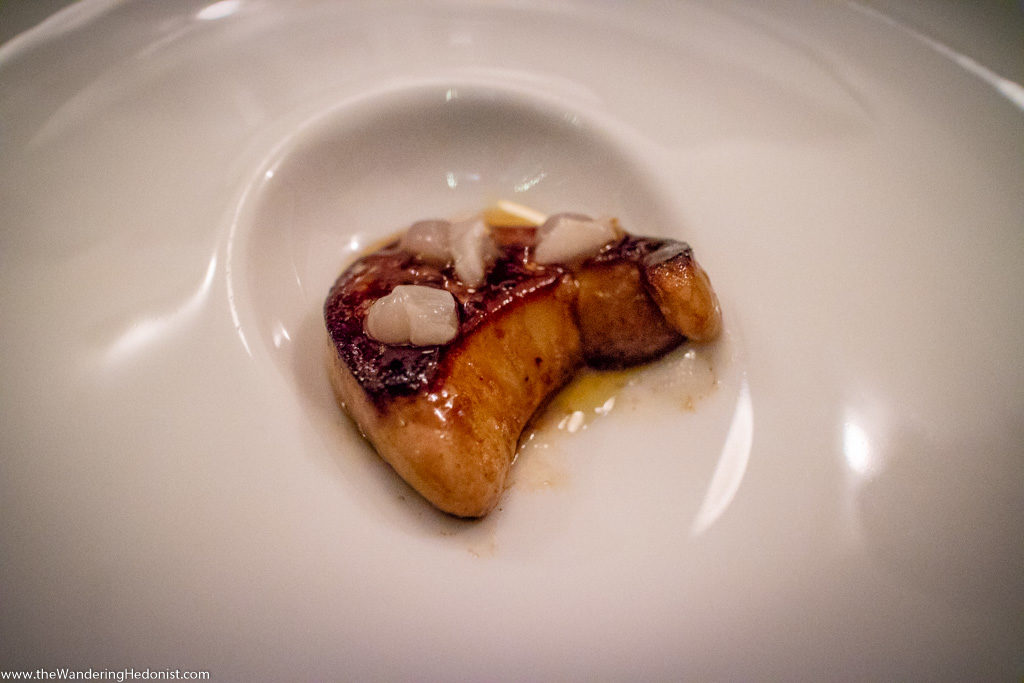 Febo Automat

Amsterdam has not forgotten the lost art of the food automat. And FEBO is the most prolific among them. With 22 locations in Amsterdam alone. Founded in 1941 it's still serving up questionable meals to the overly indulged, all night long. Honestly I had too big a hardon for frites to fully explore the FEBO menu but my arteries probably thank me for the lack of thoroughness. Their slogan, "de lekkerste", roughly translates to "the tastiest!"