We only had a few days in Sydney but I feel like we got to explore the Central Business District fairly well. Sydney has the same broad multiculturalism that we enjoyed in Melbourne but the city is decidedly larger, and at least within the CBD, more densely urban. The atmosphere is a bit more like Seattle in that instead of the solid middle tier pub and cafe scene there was a larger split between the cheap eats and fine dining. Sydney seemed to take itself a bit more seriously. And I felt an Australian version of the US's east/west vibes. Sydney is enormous with countless neighborhoods from surfer beach scenes to vibrant cultural neighborhoods. The daunting task of really understanding Sydney would take months. But I resolved to be happy with my limited and touristy experience for now.
Generally speaking, I felt very at home in Sydney. It's colonial roots and time of founding create a landscape that I am familiar with. A mix of classic British and new world influences. And you can identify several economic epochs over the years that left it's mark in the architecture. I didn't get a good sense of the difference between the people of Melbourne and Sydney but the locals seemed to enjoy pointing it out in good natured rivalry.

Cockle Bay Harbour
Sydney stretches along the banks of the Sydney Harbor where the Parramatta and Lane Cove Rivers and the Middle Harbour Creek meet the ocean, creating a swath of phalange-like peninsulas and bays. The city center is where the northern and southern lands connect across this water at the Sydney Bridge (aka the "coat hanger"), and where you find the iconic Sydney Opera House surrounded by the Royal Botanical Gardens and a variety of civic buildings and founding neighborhoods. Following down the left bank of the CBD you eventually land in Cockle Bay Harbour surrounded by condos and restaurants, the aquarium, parks, and other city attractions. Sepia restaurant was very near the bay so I chose a room a few blocks away and we returned several times to this area.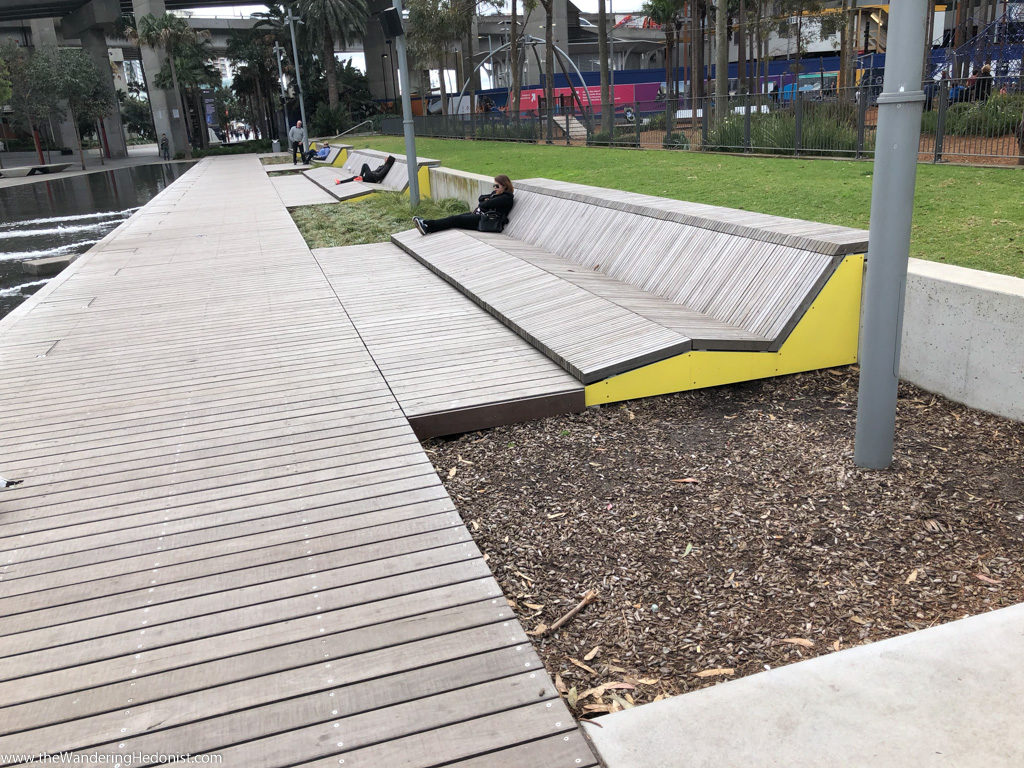 Food in Sydney
The food scene in both Melbourne and Sydney were outstanding but density left less space for mid-tier cafes and pubs. I encountered mostly quick lunch spots throughout town at street level and more traditional dinner spots. It took a bit of searching but we found many of the best casual food joints were in shiny glass malls usually reserved for McConvenience chain spots. But was surprised to find instead solid French, Thai, Japanese, and other regional eateries.
Laksa
In Melbourne I was excited to find a variety of Malaysian restaurants. I'm a fan of Laksa, a spicy coconut curry noodle dish, but was unsuccessful in getting anyone to eat there with me. So for our first lunch I found a Malaysian place a block from our hotel. I can't say it was the best food but I was excited to get my spicy noodles.


The Grounds of the City
For dinner we settled on a French cafe called The Grounds of the City. This was humbly located in a mall near Town Hall but was a real gem. The ambiance was rich and romantic with loads of well thought out details, the food was excellent, and the music tied it all together. We loved it so much we returned again the next morning for breakfast. And I wish we had been able to make it back for a traditional cream tea, the tea menu was to die for.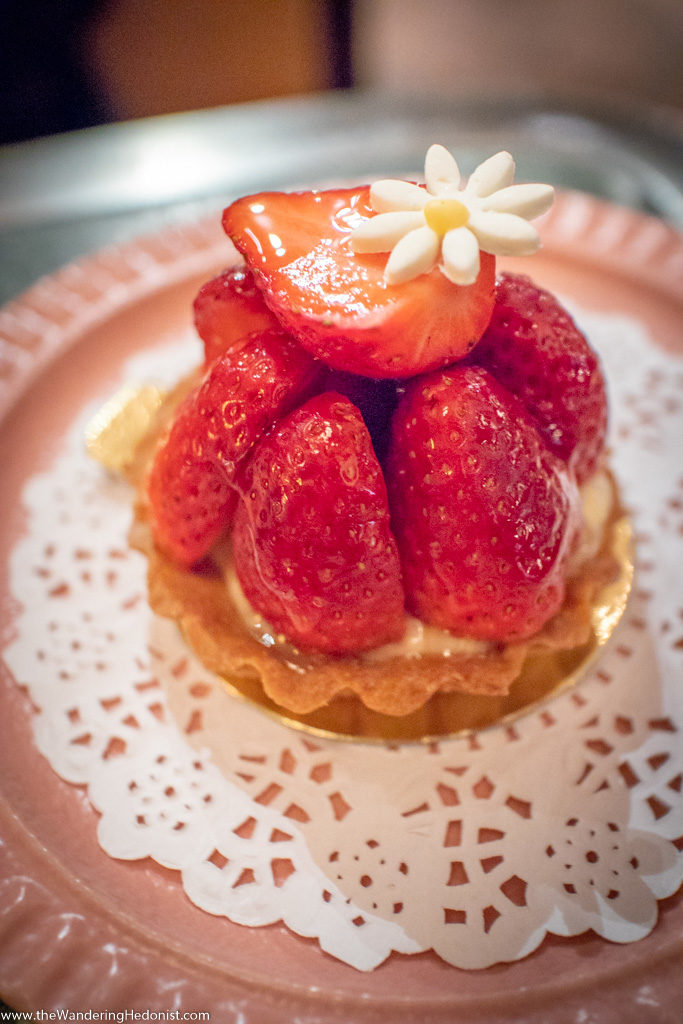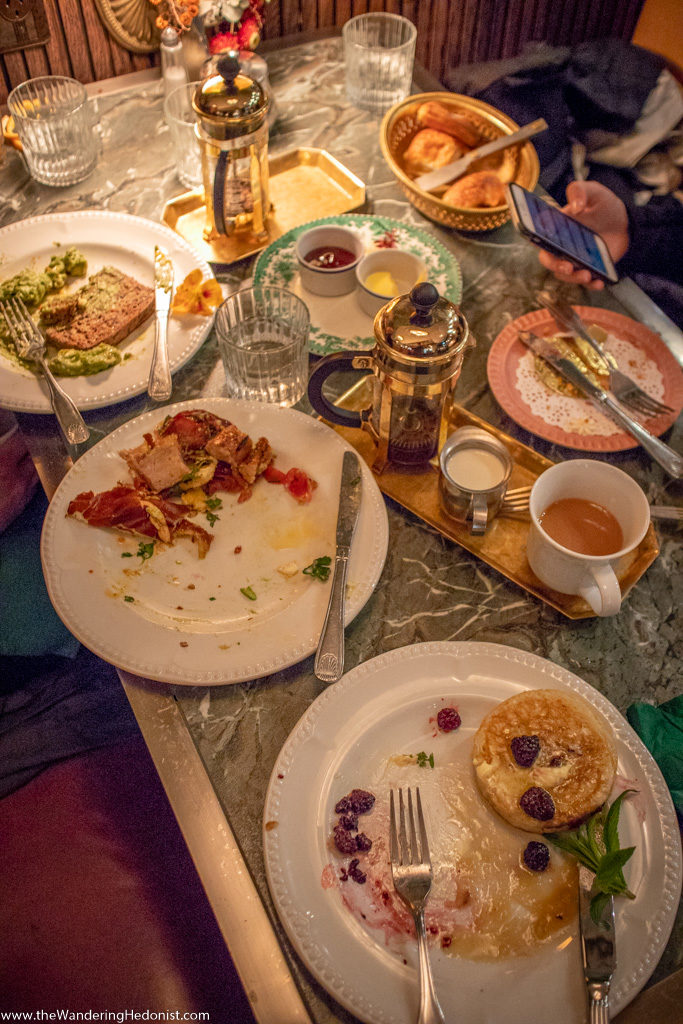 Harry's meat pie
Another must-have on my list was a local meat pie. I'd seen these things all over but the travel shows always make a point to stop by a local walk-up chain store called Harry's. The special includes a meat pie of choice topped with a heap of mashed potatoes, a small lake of brown gravy, and another decent scoop of mushy peas. It's not sophisticated but it was definitely delicious. I got the beef, cheese, and bacon pie for $5.40 ($3.84 USD) and for an additional $3 ($2.13 USD) you can get it "tiger style" or you top it with "The lot", adding the mash, peas, and gravy.


Sepia
My main food splurge in Sydney was a restaurant called Sepia, a molecular Japanese restaurant known for its seafood, loaded with accolades internationally and always hovering near the top restaurants in Australia. It had come highly recommended by Chef Eric Ripert. Aside from a few quirks with service the meal was amazing. Experimental, complex, imaginative, while still being grounded in traditional Japanese flavor and ingredients.
See my full experience at Sepia here.


Pubs
Also being an ex-British colony, there were many a good pub to found. With worn leather and wood, not the fake Disney-like reproductions in most towns.


Walker's Doughnuts
And lastly a mention to Walker Doughnuts, an Australian chain found everywhere. I had failed to get one in Melbourne so I found a spot in a mall near the airport while everyone else was shopping. These donuts are smaller, which I prefer, and the basic model comes with jelly, one of my favorite. A solid donut. Although their specialty is the hot jelly roll, a large donut sphere filled with jelly and kept hot in a warmer. Even better!


Jet Bar Caffe
We also ate at a small cafe called the Jet Bar Caffe at the tip of the Queen Victoria building on Druitt and George St. A casual spot with good people watching, good food and coffee, and a lively host.


Around the city
The Chinese Gardens
At the base of Cockle Bay where the highway crosses is a series of parks and convention centers and just beyond a walled Chinese garden. Though surrounded by the churn of the city it was a quiet refuge to drink tea and destress. A beautiful spot you shouldn't miss.


Royal Botanical Gardens
The Opera House
And of course, you can't go to Sydney without going to the Opera House. I know, it's a post card, but for a good reason. The architecture is entirely unique and fun to climb around on. And the views of the harbor are amazing. Definitely worth the trip. The sun was a bit brutal the day we went which blew out some of my photos but I'll just have to try again the next time I'm in town.