Cuisine de Garden was originally opened by Chef Leelawat "Nan" Mankongtiphan in Chiang Mai in 2011. A self taught cook, later formally trained in Japanese and French cooking, Chef Nan has appeared on television cooking shows and competitions. After the failure of his original French restaurant, Nan reimagined Cuisine de Garden as a locally sourced restaurant discovering and using local ingredients in a Japanese/French fusion style. The success of his inventive tasting menus lead eventually to the second Cuisine de Garden opening in Bangkok in 2017 and a Michelin mention for the restaurant.
Arrival
I booked our table based on a recommendation and hadn't looked at the location until just before we left. The restaurant is actually 20-25 minutes south of old town so be sure to leave some time to get there. The building sits on a wooded road off the main south drag. You'll want to turn right just before the restaurant where the parking is located.
The entrance sits at the far end of a wooded lot/garden and the approach is a winding step stone path that meanders through tunnels of vines and trees. It was quite beautiful and I wish we had had a bit more time to explore we were seated.

The meal
Historically I believe the restaurant has offered a short and long tasting menu but when we arrived for the new season menu there was only one option, the 12 course set at 1,982THB per person with optional pairing at (I'm estimating) ~1,700THB for 4 glasses but with generous refills.
The menu was based on the notion of paradox, which I gathered here meant a defiance of expectation. Instead of running from a starter to fish to meat to dessert, the menu was presented opposite with the courses at the beginning having dessert names. Each course then was presented with the look of the reverse dish but having the flavor of the original course, so that the "Petit four" at the beginning were savory amuse bouche that cleverly looked liked sweets. Another early dish looked like ice cream on a stick but was actually savory pork with a spicy sauce that had been frozen into balls just before serving. So that each course was playing against the expected order and each dish was masquerading as its opposite. Likewise the meat courses were paired with white wine and the fish/seafood with red. It was a fun mechanism that produced some excellent dishes with a bit of wonder and magic.
The main disappointment was that the theme of disguised food was dropped after the first few courses for more straighforward or concept dishes. I really wanted desserts disguised at meats and starters. A huge missed opportunity in my book. But the food was all very good and satisfying.
Winter Paradox (the full menu)

PETIT FOUR
Beef, Tomato
เนื้อส่วนต่างๆและมะเขือสม
This first course was presented as a tray of whimsical desserts, a macron and cream puff set on top of shiny black river rocks. But each bite was a savory explosion of bright flavors. The ribbon shape was a spicy piece of chewy pork, the cream puff was a piped bone marrow mousse with onions and tomato, and the macron was a heavily spiced ball of beef tartare with sun dried tomato.


TARTIN
Chicken Liver Tartin, Cape Gooseberry
หาต บ และกูสเบอร
This was a take on the typical fruit covered custard tart. It was a great savory crossover with the typical desert as pate can easily fit in at the beginning or end of a meal with fruit. And the gooseberries brought a tart note to the dish. I think they missed a couple of opportunities here though. If the pate had been poured into the tart shell instead of a circular slice it would have better mimicked the tart. Then if it would have been sealed with a thin gooseberry gelatin it would have been more surprising. Also the traditional tartin caramelizes the fruit before the custard is set, that's the signature of the tartin, and the fruit here was quite raw. So while the idea was good one I think there can be some refinement here to really bring the concept together.


ICE POP
Pork Leg Terrine, Lime, Garlic
แก่งกระด้างขาหมูมะนาวและหอมเทียม
This was one of my favorite courses. The pork leg terrine is shaped into an ice cream and coated green with little frozen white balls across the plate. The whole dish gets a quick freeze in liquid nitrogen so it's steaming when it arrives. But soon begins to melt. It's perhaps the most surprising in terms of expectation. And the white sauce is quite spicy. Great dish.


BLACK FOREST
Duck Prociutto, Seasonal Berries
เค้กเป็ดและเบอรี่ตามฤดูกาล
Another of my favorites. The dish is made to look like a small slice of cheesecake with fruit on top and crumb crust. But the cream cheese is savory and conceals a smoky bit of duck prociutto. Very yum.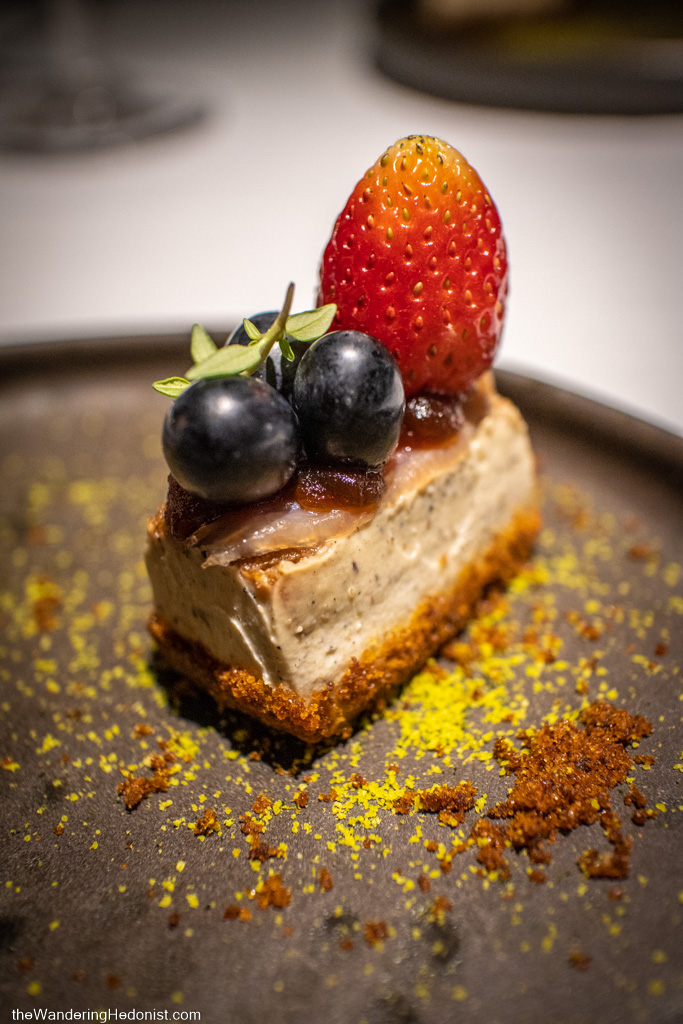 MUFFY
Homemade Muffin, Koji Caramel Butter
จนมปังมัฟฟี่และเนยโคจิคาราเมล
They said this was one of their most popular dishes and that they sell them for take-out. It's a fluffy white "muffin" (texture more like savory caky bread) with parmesan topping and sweet butter. They come in a large woven basket with two muffies per person.


THE NEST
Chicken, Egg, Rice Vermicelli
ไพ่ออนเซ็นและไก่ฉีก
This was the restaurant's signature dish and it's on all of the menus. It's pretty clever and delicious to boot. A nest of fried vermicelli is placed on some delicious cooked chicken with a poached egg in the nest still in the shell. You crack the poached egg into the nest then stir the whole thing together. It's simple and fun but the final dish is quite delicious.


YEN TA FO
Fish, Leek, Fermented Tofu Soup
ซุปดา เย็นตาโฟและปลา
This dish was visually interesting. Initially the ingredients are served dry around a pool of tarragon oil. A rich broth is poured tableside creating a soup. The broth was quite good, I could have had more of the broth. The ingredients didn't feel well incorporated into the final dish. Perhaps an element to add a bit more viscosity when mixed, or maybe cooking then freeze drying the ingredients so they melt a bit more? Those crackers were quite spicy.


INK
Squid, Beet, Holy Basil
ปลาหมิกกงฟีและบีทรูท ใบกระเพรา
I nice bit of squid with a colorful plate. I get the ink/ink play. Honestly it was a bit more straightforward than the earlier dishes in terms of appearance but it was good.


DAY CATCHED FISH
Day Catched Fish, Miso, Taragon
ปลาประจําวันและซอสกะหิหารากอน
Another straightforward dish. Based on the earlier themes I would have expected the fish to be disguised as a meat of some sort. I didn't really get the "paradox" elements to this. But it was a fine piece of fish. I suppose they did serve it with red wine instead of white.


TAPI
Giant River Prawn, Bitter Orange
กุ้งแม่น้ำตาปีกับสมาและข้าวอบเคย
This was a grilled prawn served on a skewer with a bit of crab claw and shell on the skewer. It also came with a ball of rice that was wrapped in the white paper flowers and a spicy salsa type condiment.


MEAL
Koji Rice Icecream, Fish Sauce Caramel
ข้าวกับน้ำปลา
This was interesting. It was ice cream topped with crunchy rice and came with a vial of fish sauce caramel. Once doused, the sauce added a sweet and pungent element that I thought was quite good.


LANTERN
Glutinous Rice, Perilla seed, Four kind Condiment
ข่าวปุกงาและขันโตกของหวาน
More of a play on words here than a paradox. Initially the four sauces are placed on a plate with a candle in the middle and covered with a lantern. The lantern is removed to reveal. Then you are served a sliced roti that you apply the sauces to. The roti was a bit chewy. Katy was more into it than me. But it was not bad. I was disappointed that they had completely dropped the paradox them by this point and were just making interesting dishes. There is a huge lost opportunity here to make desserts that look like meats but are sweet and fluffy instead. Oh well.


FRESH HERB TEA
Pretty straightforward. A mixed fresh herb tea. It was good. And visually striking.


The details
I quite liked most of the details. The ceramic tableware had a mix of earthy and smooth glazes, interesting textures, and props like smooth river stones. The cutlery was simple but not distracting. The wine glasses were nice. The table was set with a candle and fresh herbs. My wife was confused by the bathroom signs but they seemed clear to me. Though I was disappointed with the worn paper towl dispenser in the bathroom.

The restaurant
The interior of the restaurant was quite fun. Most of the floor was polished concrete but some sections were filled with gravel giving a Zen kind of feel. Garden wall panels gave a nice pop of green. And the second room had some creative lighting. You could tell the tables had been reduced and spread further apart for covid which was nice.