By the time I first made it to Haight-Ashbury the only hippies left were crusty gutter punks yelling at the tourists from their cardboard sidewalk guesthouses. A jangle of extremes. A mix of cultures, tempered by the past, with the still green veneer of the way it used to be. The way it might always be. For all of it's pride-flag, sour-dough, street-car depictions, San Francisco is a dark city. Scores of homeless squatted in encampments throughout the downtown. Crusty dive bars, late night neon pizza joints, strip clubs, and the peppering of junkies nodding out under soiled blankets in piss soaked alleys. There's a kind of threatening vibe that's been washed out of other traditional cities like New York. A kind of grit that I'm drawn to. Moderately trendy tech elite scuttle by pretending to look at their phones in fancy sweaters. A wall chart of inequality, the dire poverty smeared right over the sparkling buildings and shiny new Porsches rumbling down the streets. The ethnic neighborhoods once the product of racism and segregation now postcard hop-on hop-off bus stops remade in a Disneyland self-parody. But one designed to fleece the rubes, like the good old days, boom after boom. And underneath, something entirely its own. A practical fusion. A stubborn merging of cultures locked together tightly in the survival dance we all must give time to.

Dive bars
I want to make the most of our short trip, so while Katy packs it in early I wander over to one of an endless selection of rowdy neon dive bars along Bush street. It's a school night but the place is choked with slurry pie-eyed minstrels singing along with the jukebox. An older slick-haired drunk grabs my arm with a joke on the way in and I should have realized the empty seats around him might have been on purpose. I get a half-coherent life story while I wait on my martini. The owner is a gruff Korean woman who tutors her younger Korean bartender in loud and angry blurts. The old drunk is growing on me, but he keeps putting his hands on me and getting a little too close to my face, telling stories about growing up in the Haight and when the hippies came and how perfect life was and starts playing a harmonica. For the rest of the evening.

When the touching turns into a backrub I down the remainder of my second martini and hit the streets.
It's about 1am and I only have to walk a block to find a 24 hour diner in 50's kitsch packed with lovely post-bar weirdos. My BLT comes with potato salad, a pickle, a pepper, and an orange slice. And hey look, they serve beer. I'm starting to like this place.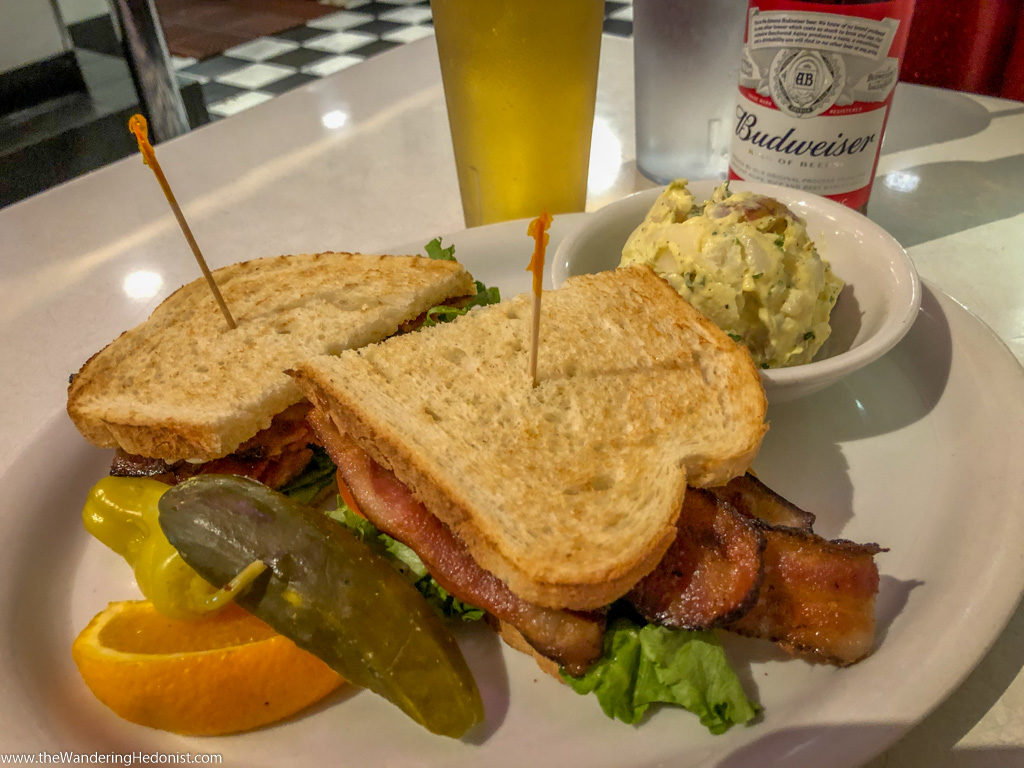 San Francisco fusion
The next morning we walk a couple of miles across town to our lunch reservation at the Zuni Cafe. We take Bush St. and angle down towards Market. The food spots all seem to be asian / american-breakfast fusion diners so we stop for a snack on the way at Han's Coffeeshop: Breakfast and Lunch, this awesome Korean greasy spoon. I order a Bulgogi omelette. It's stuffed with fried rice and green peppers with sweet and savory bulgogi over the top. It's fantastic.

Zuni Cafe
A few miles later we arrive at Zuni. It came highly recommended but I didn't know what to expect. For a cafe it was decidedly upscale with white table clothes, flower arrangements, and a very well stocked bar. They're known for their wood-fired dishes, especially their whole roasted chicken, but given it's 60 minute wait, we order a salad, a sausage starter, and finish with the chicken. Along with a glass of Nebbiolo. The gamble turns out to be a fantastic meal. The salad is much more herbaceous and flavorful than it first appears and the sausage is excellent, loose and succulent, wtih rich beans and a buttery dressing. The chicken did indeed take an hour and came in pieces atop a vinegary bread pudding and tart greens. I could have stopped with the sausage but the smokey rich flesh of the chicken was stellar. We left with quite a bit of it.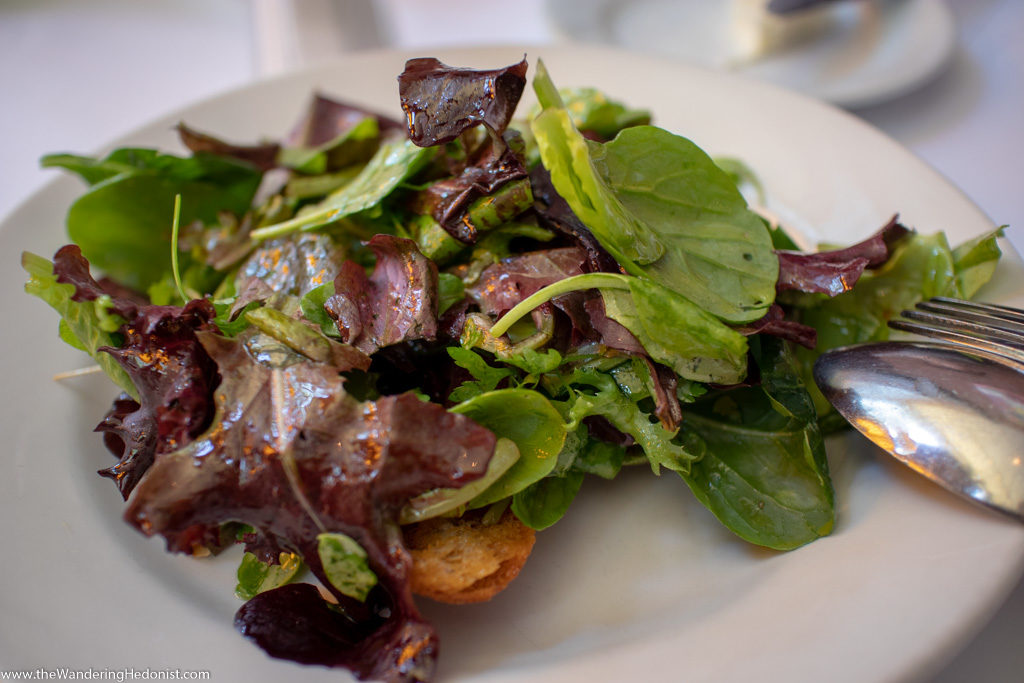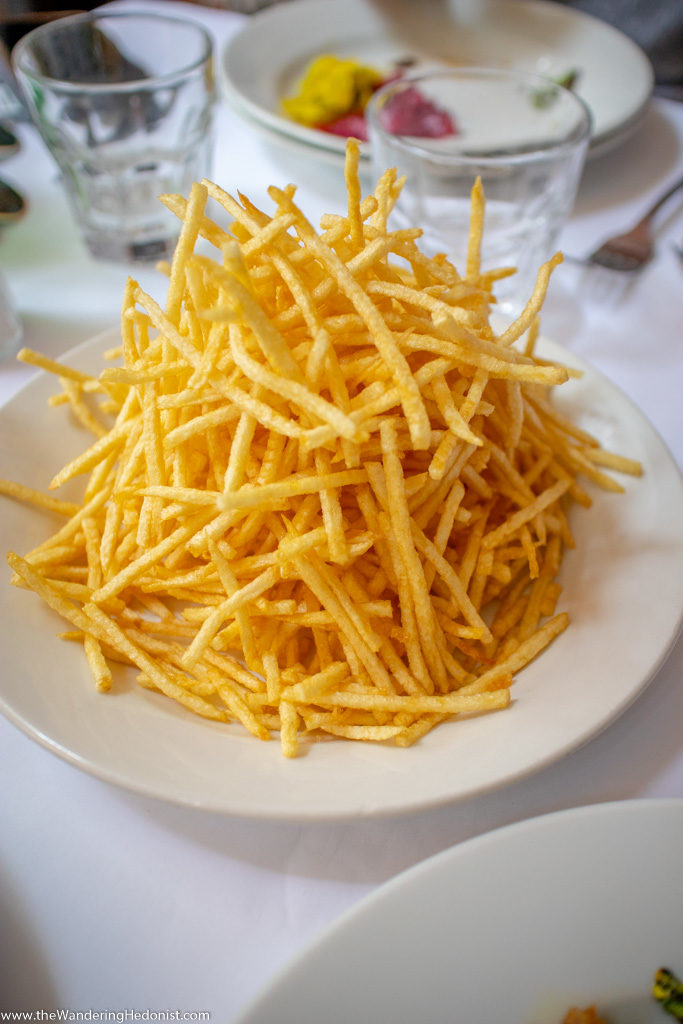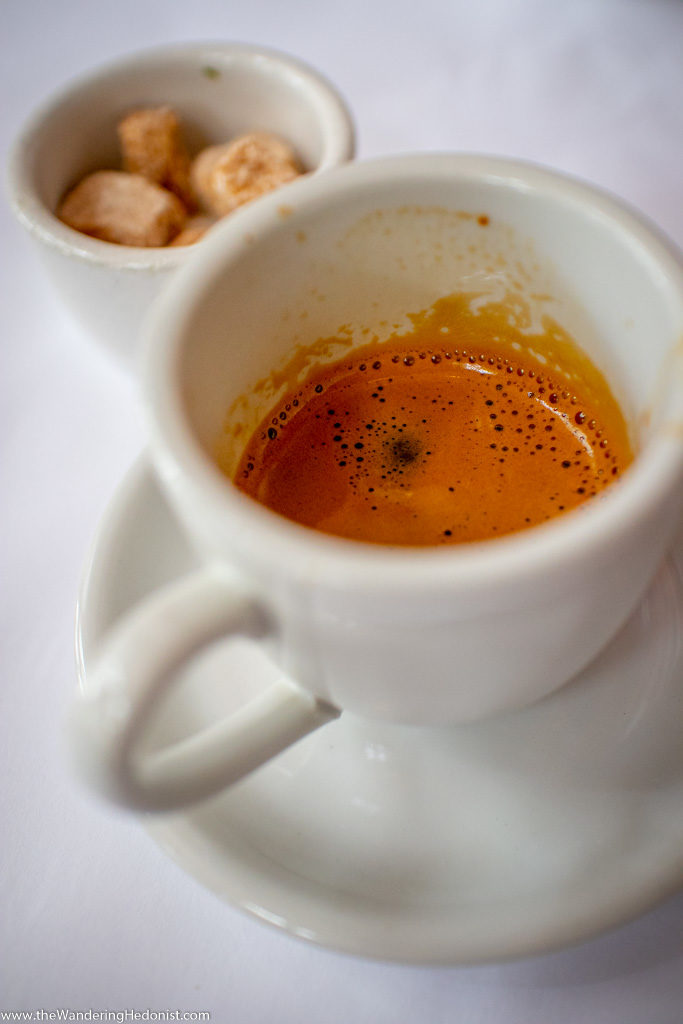 The Tenderloin
A walk through the tenderloin brings on the flavor. A collection of throwbacks to a time before the tech boom. Worn-down coin laundries, one-store corner markets right in the middle of downtown. Gaggles of vagrants selling drugs and napping on the sidewalks. I wonder how it could have stayed this way. Almost all the worn memorabilia in Seattle has been torn down and replaced by shiny multi-function high rises with eco-friendly themes. If your business can't support the skyrocketing rents, then you're out with the rabble. But here things feel frozen, for better or worse. And I enjoy the ambiance regardless of how it's hung around.
I recall on my second visit to San Francisco, a conference for work, staying in the Tenderloin, in three days I saw two different people taking a free-standing shit on Market street sidewalks. In broad daylight. You don't see that much in Seattle.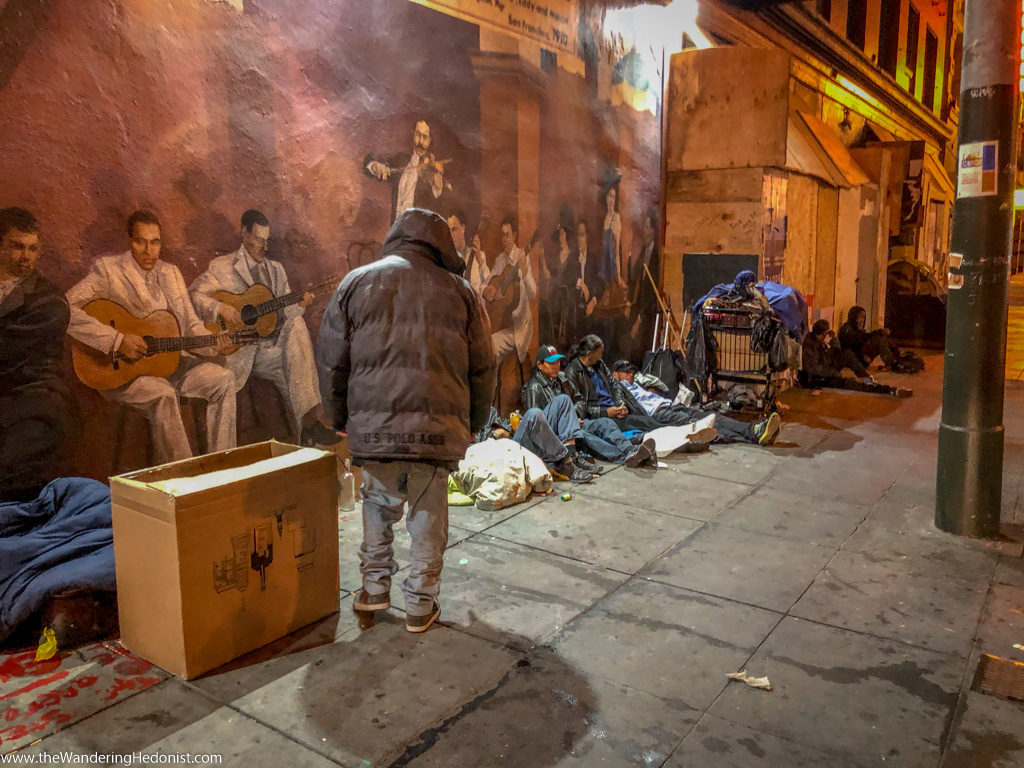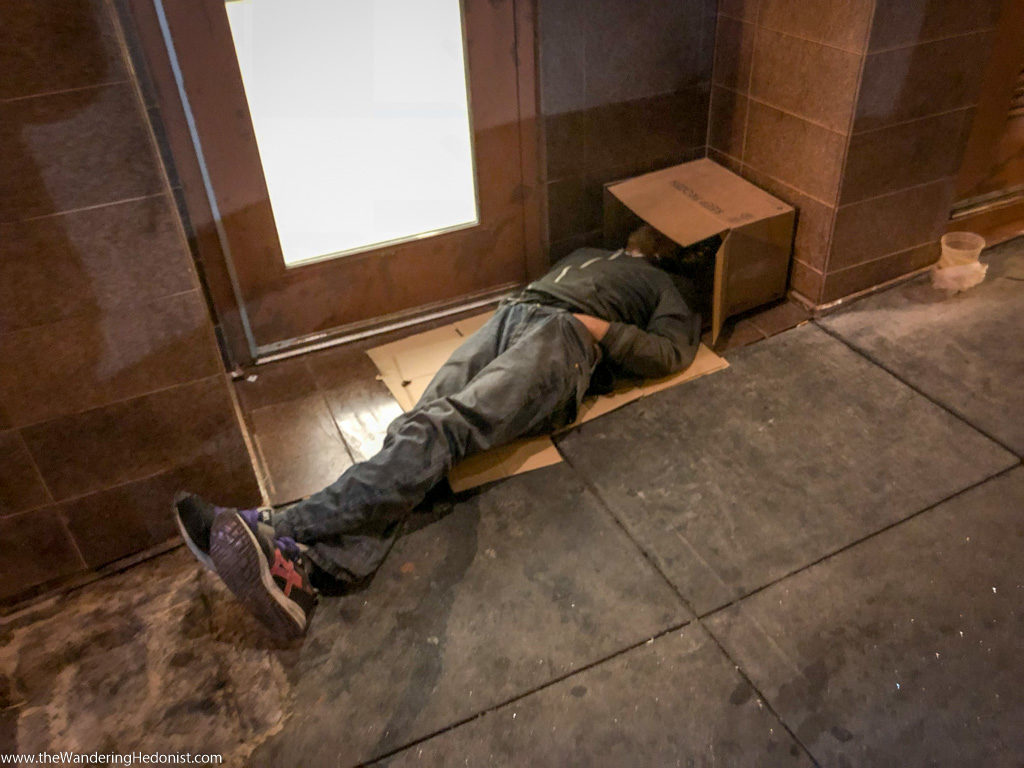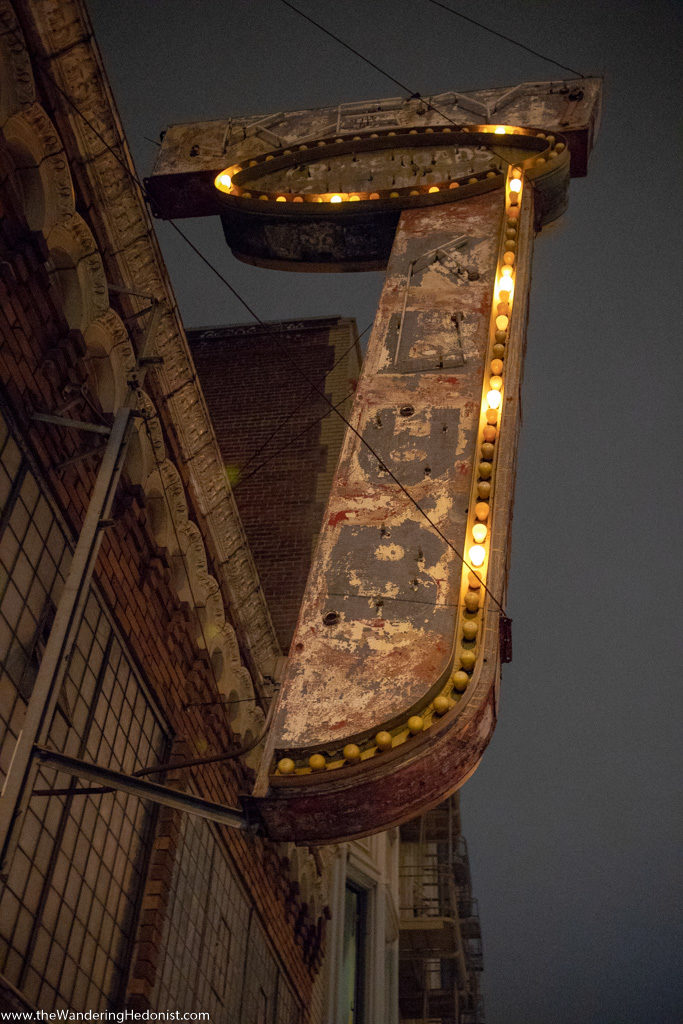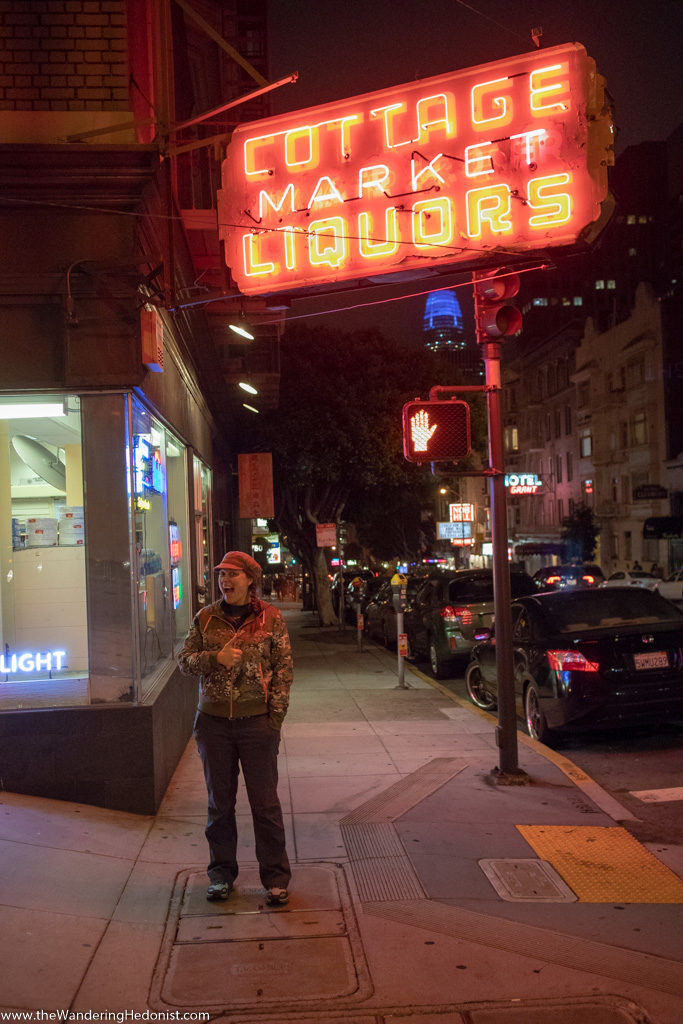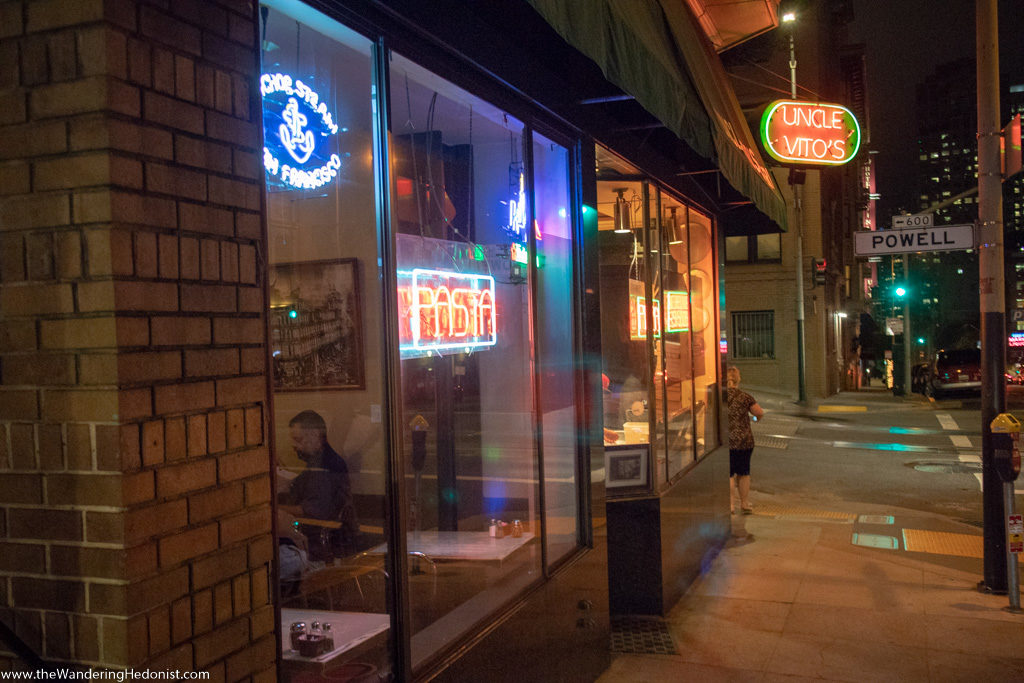 Sweet nerdy goodness
The real reason I'm here is Katy bought tickets to a live blog that she's into. A sold out geek fest that people dress up for. And I'm excited to participate. The McElroy brothers grew up in my hometown, basic gamer geeks with a good sense of humor, that have become strangely famous through their podcast My Brother, My Brother, and Me, and more recently The Adventure Zone, where they play D&D with their dad Klint McElroy (also a well known radio personality from my childhood). Sound fun? Well get on board, there's too much fun in the world to be judgey. These guys are hilarious.

The House of Prime Rib
Do a search of the places you should try, must try, need to experience before you die, in San Francisco, and one particular anachronism from a by-gone era will surely appear. Like the stubborn soul of the city itself, this once pinnacle of dining indulgence soldiers on into this, and the next, uncertain generation of fads and identity crises. Surely if anything is American, if anything holds true, this menu would be one.
Chinatown
The first time I came to San Francisco I was circling the country living in a car and navigating with a paper atlas. I'd go to a town, pick what seemed like the center, and hoof it around for a bit. Those were pre-internet days. At least the kind of internet I had access to. It was hit or miss. So for San Fran, we parked near Chinatown and walked around a bit. I didn't even grab noodles, I didn't understand what I was missing. Then a quick drive down the curvy road and we were off to Death Valley. Another missed opportunity.
This time the fam wasn't much interested in walking around so I scored some free time and got a little photo tour in. The real Chinatown lives the 2-3 blocks off the main tourist drag. Down alleys and inside markets. The day to day of the neighborhood. Still a bit rough and graffitied. Places you maybe shouldn't be wandering around alone. I need a couple of weeks here to really understand a place, but I'll take what I can get, a little glimpse at a time.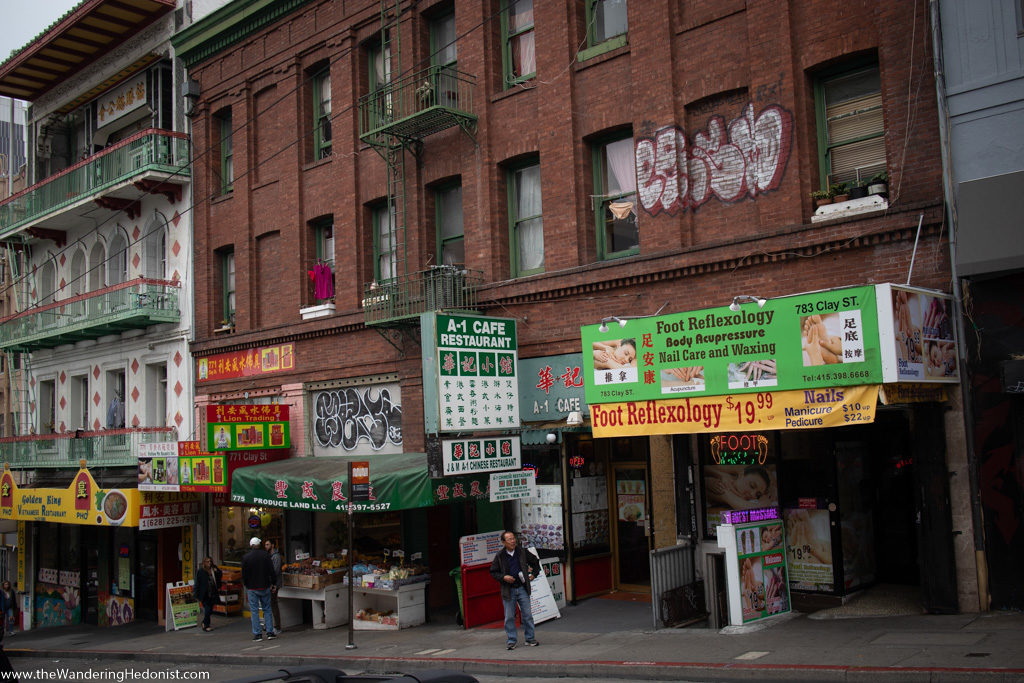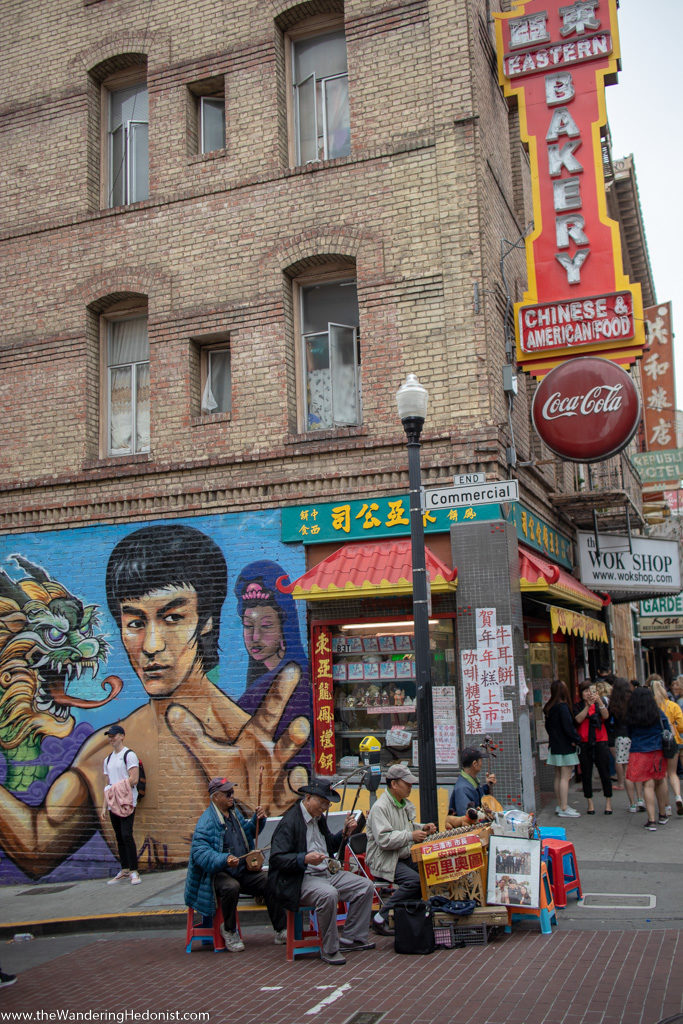 Obligatory tourist stuff
On our last day we hop a cable car to Fisherman's Wharf. Even the touristy bits are fun honestly. Hanging off the side of a rickety piece of metal swooshing inches by oncoming buses and standing crotch to face with strangers. What's not to love. We peruse the nautical park and Ghirardelli Square. Grab a lobster roll. Stare at the bridge. Point at Alcatraz. Try to grab a returning cable car. Pro tip. You can usually catch a car a few blocks up the street at the market station to avoid the lines. But at the wharf they load the bastards full-up so you might want to just suck it up and queue.