We hadn't planned to stay long in Madison, just a stop to mount the new tires and we'd be off to Chicago. I'd seen it pop up in lists of cities for artists but I didn't know much about it. The other towns we'd stopped at in Wisconsin were fairly conservative and sleepy. And if we hadn't ended up stuck for a bit I may have missed all the great things this city has to offer.
We originally stayed at a hotel north of the city, expecting to stay only the weekend waiting for the mechanic to open. But when recommended to change the tie rods, ball joints, and shocks with a two week parts estimate, we found a homey bed and breakfast downtown right at the edge of Lake Mendota to unwind and have walking access to the city. It turned out to be a welcome rest and a good time to strategize about what to do next.
Madison is a college town with much of the southern portion of the city populated by campuses. The young vibe is pervasive with an active political climate and lots of bars and coffee shops. The city has invested in its citizens with bike paths, parks, and public art and there's a decent feeling of community. There is a clear and active bike culture and lots of people walking and jogging through town. We arrived at an interesting time as school was set to open and allow students on campus, though clearly a much smaller crowd than usual. This may have given us a more peaceful picture of the city.
I also found the city to have a decent level of food culture with nicer restaurants clustered around the capital, wine stores, and at least two large asian markets with access to hard to find ingredients and a food court with delicious asian food. The coffee was good. And the grocery stores had a broad selection of yummy things and a certain lack of pretension that had no trouble selling prime rib next to jello and desert fluff. Plus a nice level of affordable eats down State St. for the students and food trucks near the campus. Though it's hard to tell exactly how things normally are without the pandemic.
The city also had a very west coast vibe with yoga studios, natural healing, healthy food, and farm to table concepts and a variety of small businesses clustered about, though in a mixed state due to COVID-19.
Honestly we found ourselves researching rent and house prices and thinking about jobs. But we both agreed the winters here were probably too cold for us. Generally speaking though, we really liked it.
Walking around town
The central part of Madison is built on a narrow stretch of land between two large lakes with the capital building at the center and a main road running through the middle curving around the capital. North of this area the town opens up into more sprawl and big box stores and to the south is the University. The area is fairly flat so it's easy to walk or bike and there are several bike routes through town. Many of the restaurants are clustered around the capital square and there's a metro-only road connecting the capital to the University, State Street, lined with coffee shops and pizza joints. Nearly all the shops on this route are boarded up from police brutality protests but each business has allowed murals to be painted on the wood panels, hundreds of them, for many blocks through the city. There's no protests now but it's clear there were active ones recently. Signs and banners throughout the city and on houses celebrate BLM and the George Floyd protests. The scene feels much like Seattle and Minneapolis.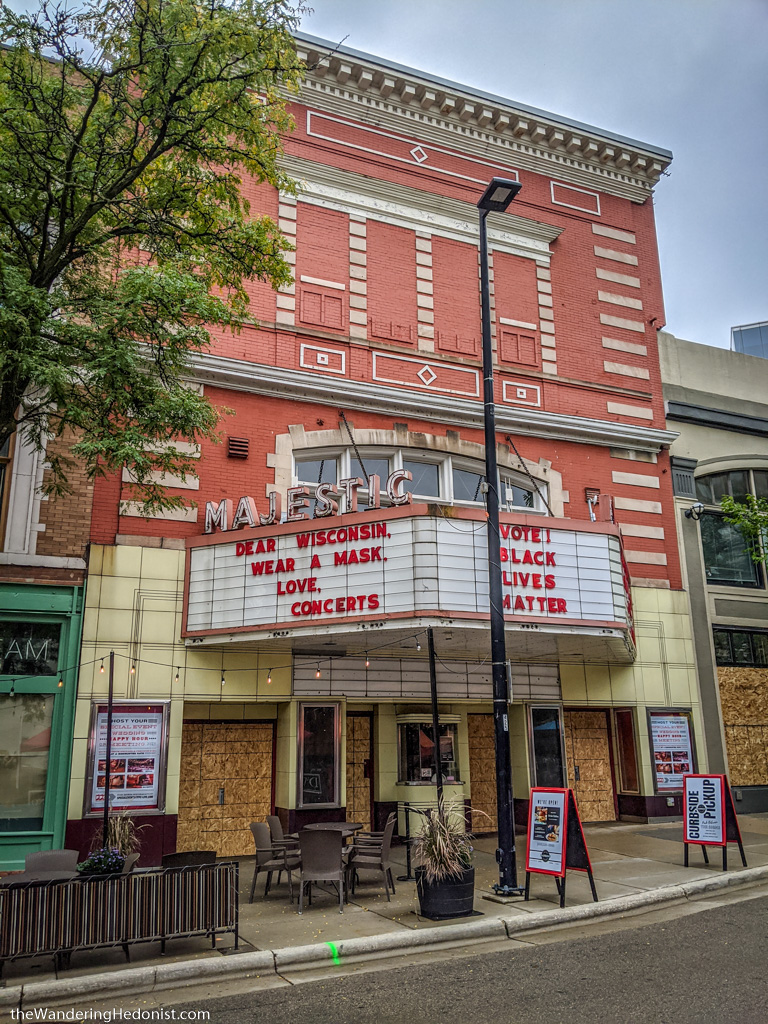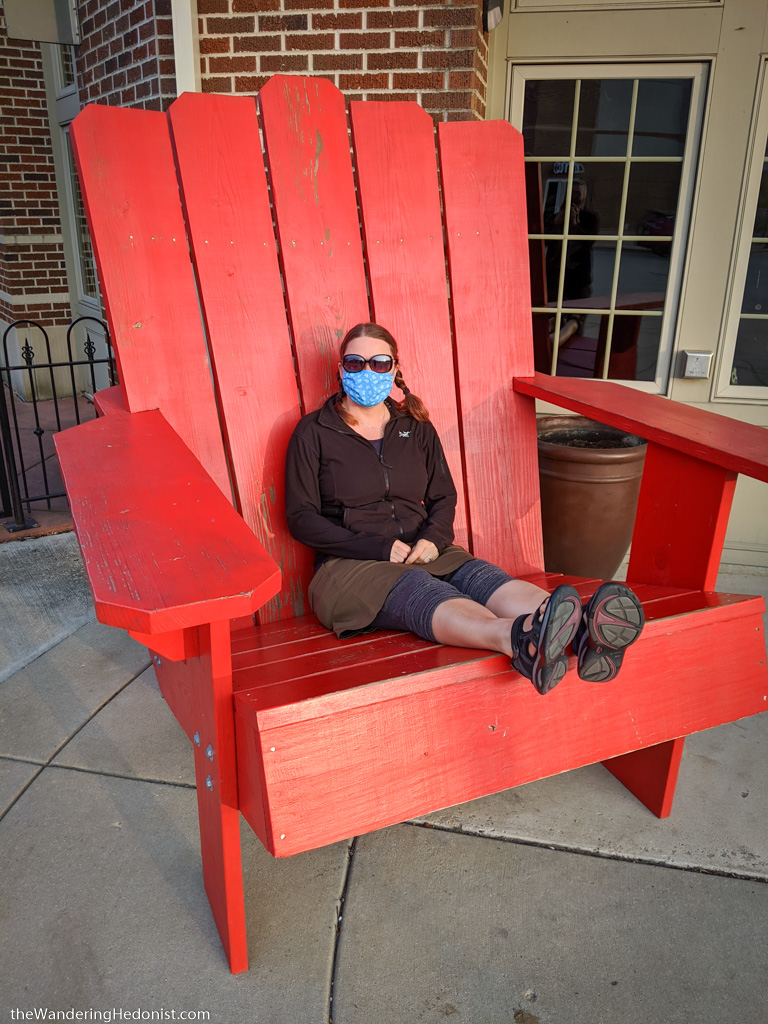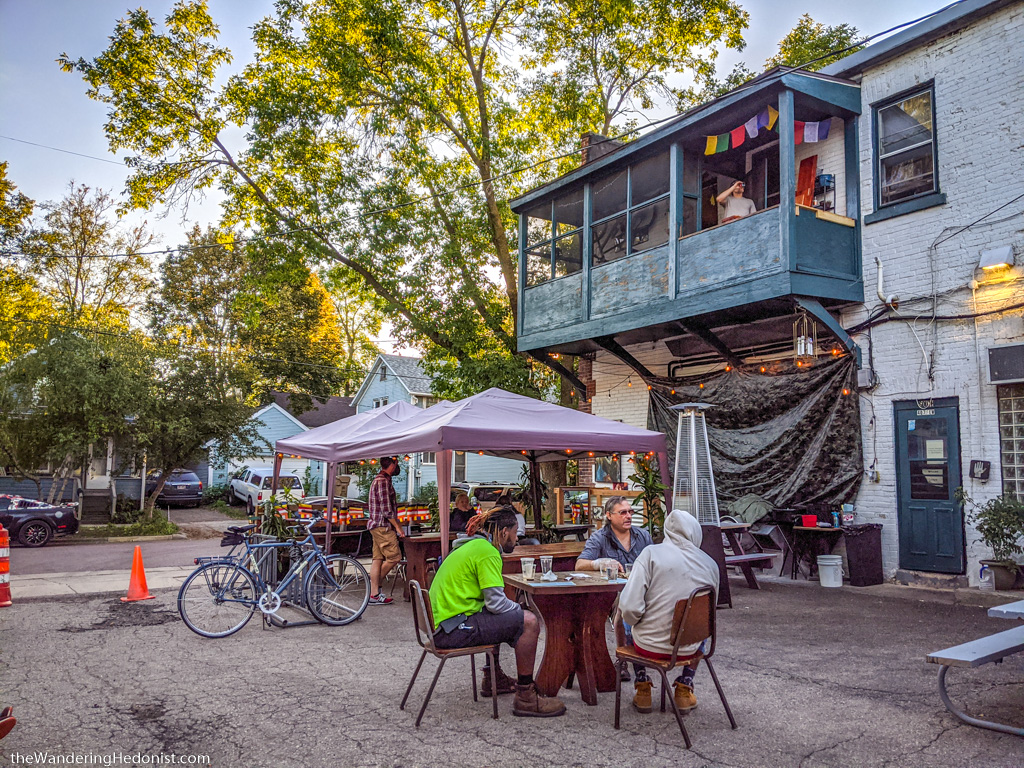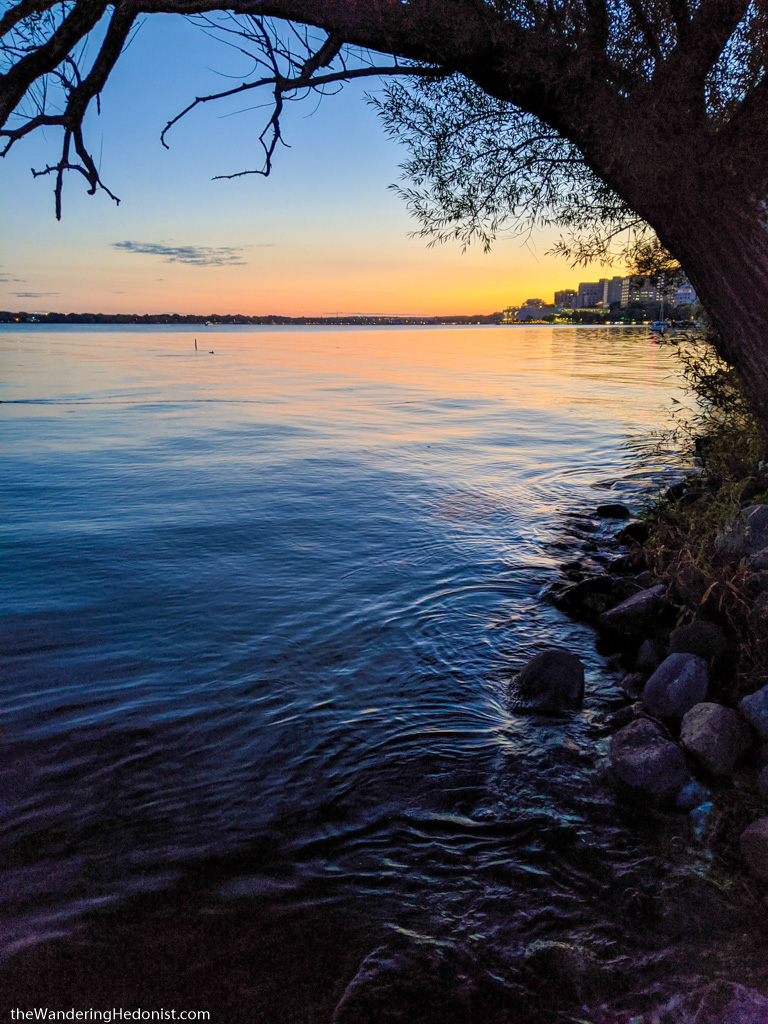 Mendota Lake House
We were lucky enough to book a large room for two weeks at a comfy bed and breakfast right in the middle of town with a view of the lake. The hotel was too impersonal but we felt right at home here and could finally relax for a bit. This place is in the perfect location for exploring the city and sits in a park neighborhood next to historic houses. Plus the kitchen allowed us to cook our own meals and dine with a nice view. We loved it.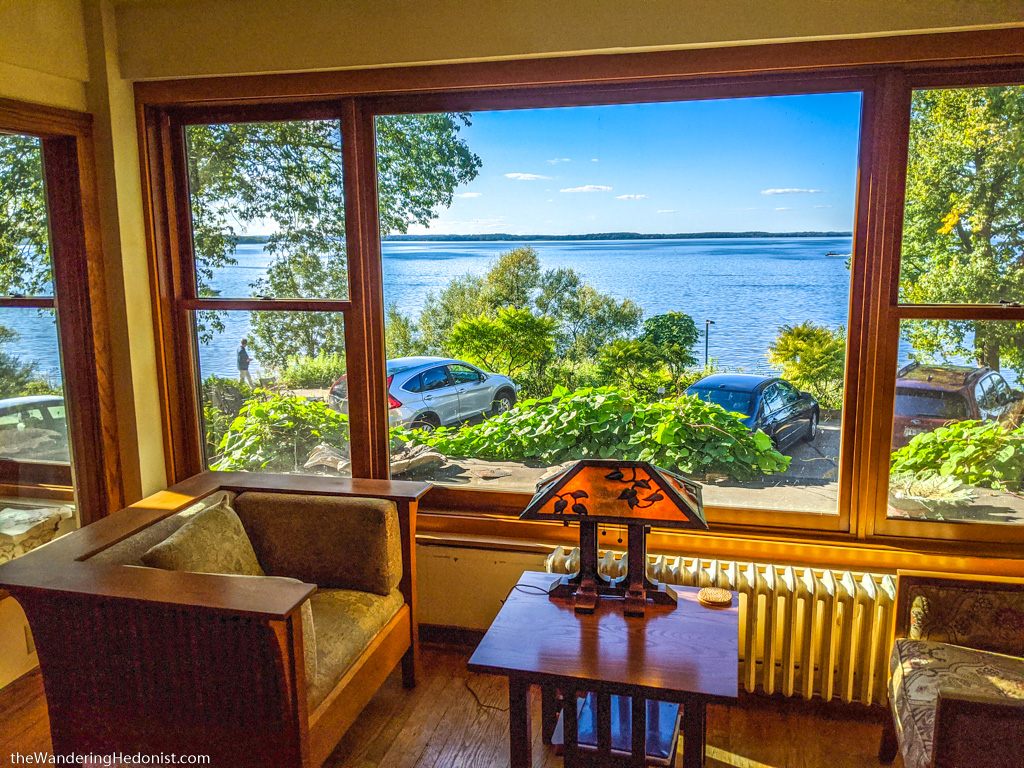 Our room
We prefer a separate bedroom to accommodate our different schedules but this room was large enough to spread out and stay out of each other's way. It felt more like an apartment.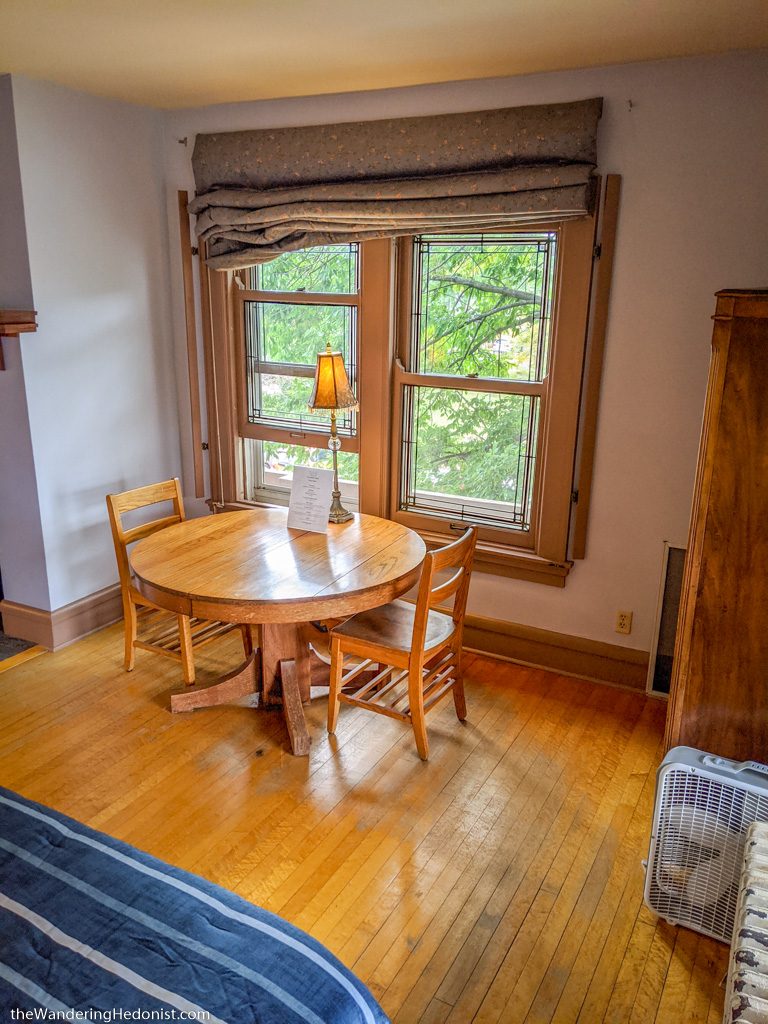 The main downside
The main downside was a major construction project which happened to be going on directly in front of the building that shook the entire house early each morning. As we are packing to leave the work is just about finished. Great timing.


UW-Madison Arboretum
Created in the early 30's from granted land and labor by the Civilian Conservation Corps, this nearly 250 acre area just south of downtown is an ecological restoration area with both managed ecosystems like forests and prairies and display gardens with labeled plant collections of trees, shrubs, and other plant life. It's not exactly a park but it's open to the public to enjoy. We took a long walk through a variety of ecosystems and lounged in the open interior spaces. Great place to visit.
Olbrich Botanical Gardens
These botanical gardens are a bit more formal with many separate internal gardens guided by a theme. One magical little spot to the next. Small ponds and paths. The major attraction is the Thai pavilion complete with a Thai temple that was constructed in Thailand and shipped in pieces to the park. We had a great time exploring.
Food in Madison
I enjoyed the food in Madison. It's not a huge town but there were many options outside of the chain stores. Many of the higher end restaurants were clustered near the Capital and easy to walk to from our room. And smaller international places and bars were easy to find. We also discovered a new asian market with food court with lots of great asian food and another asian market downtown. Thai, Laotian, Sushi, Indian, Greek, French, Russian, there was a little bit of everything. I definitely felt like I would have things to work with. And people seemed to understand and celebrate farm to table concepts and support local farmers.
Old Fashioned
The first place we ate was an established place near the capital. I got an appetizer platter that turned out to be way too much food and of course had to get an old fashioned at a place called The Old Fashioned.
Portillo's
One of the places recommended to me to try a real Chicago dog in Chicago was Portillo's. And I was ecstatic to discover one in Madison. I didn't know how long we'd be here so I broke my diet and had a few dogs. It may have started a slippery slope but I'd say well worth it.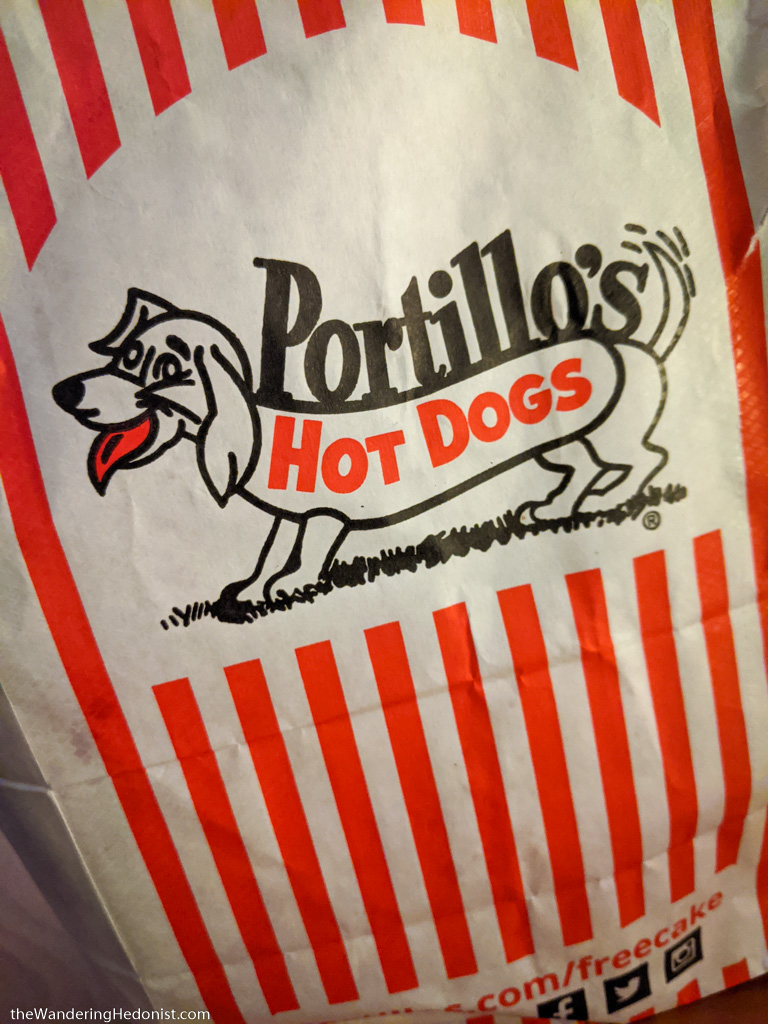 International Market
A new market and food court had recently opened up and I had the best pho I'd seen since Seattle. We returned a few times.
L'Etoile – Tory Miller
L'Etoile is the creation of Tory Miller of Iron Chef fame. He has several places in town including Graze that we also liked. This is his high end place downtown and they had recently started selling dinners to go. A full meal with desert packaged for 2. Since we were now spending our 10 year anniversary in Madison we chose to try it out for a lovely dinner in our room. It was amazing and for only $40 it was oddly cheaper than most of the other delivery we had. We ordered here twice and both times was amazing.
Fun ingredients at the asian market
One of my personal requirements for a nice place to live is access to unusual ingredients. I was very happy to find scenes like these at the asian market.
Grocery store finds.
I always have an eye open for interesting things at the grocery store.
More photos of State Street
I had so many pictures of these murals. I originally included more of these earlier on but it's only a small part of the city in comparison. But these are worth representing. These ran for about 7 blocks from the capital to the University. The main road through downtown.