Each region of Italy has a unique style of food and most of it completely unlike the food you will find in an American Italian restaurant. Rome is no exception. Its traditional dishes are very much alive today and enjoyed across the city. Like all Italian cuisine, the focus is on what's in season and what is grown locally.
Traditional local ingredients include: grains, fruits, nuts, olives and olive oil, beef, lamb, poultry, artichokes, fish (particularly anchovies), dairy and cheese (particularly pecorino Romano, a salty aged sheep's cheese), and honey.
Rome also historically had a large Jewish population, so many of the celebrated peasant dishes are from Jewish origin.
The four Roman pastas
Though we tend to associate pasta with Italy, the first concrete information about its use wasn't recorded until the 13th and 14th centuries. After that, dried pasta became popular for sea voyages and was exported all over the world. Tomatoes were not introduced to Italy until the 16th century and only became popular in Italian cuisine in the 17th century. The first recorded recipe for a tomato pasta sauce was by Roman chef Francesco Leonardi in his 1790 cookbook L'Apicio Moderno. Before that, pasta was eaten with the hands without sauce (the introduction of tomato sauces created the need for a fork). That said, pastas are popular in Rome and remain a staple of the cuisine often eaten every day.
Most regions in Italy have one or two internationally known traditional pasta dishes. Rome has four. Featuring black pepper and pecorino romano cheese, these four pastas build one to the next. These dishes were traditional shepherd dishes where the cheese and cured guanciale would keep without refrigeration – with the addition of an egg or tomato when available.
The first and most simple is cacio e pepe which uses just black pepper and pecorino romano, pasta, and a bit of pasta water to create the emulsion.
The second, gricia, starts with guanciale (cured pork jowl) finely cubed and rendered in a pan, then the pasta, pecorino, and pepper are added to cook and a bit of pasta water for the emulsion.
The next two are variations on the gricia.
The third, amatriciana, starts with guanciale, but then fresh tomatoes are added and cooked together. Then the pepper, cheese, and pasta are added.
The fourth, carbonara, is the same: guanciale, pepper, and pasta – but then a fresh egg or egg yolk is mixed with the cheese and added to the dish at the end.
Roman pizza
Pizza in Rome is very popular and comes in two distinct styles.
The first is pizza al taglio or by the slice. In this case, the "pizza" refers to a thick almost focaccia-like flatbread in long lengths available with a variety of toppings. The length is cut to order and sold by weight and then either warmed or served cold. This can be a quick lunch or a late-night bar snack.
The second is pizza tonda, a more traditional style round single-serving pizza made fresh and usually served at a table in a restaurant. Supposedly, the Roman style pizza is thinner and crispier, but honestly, I couldn't tell much of a difference between Rome and Naples pizza. The crust is thin but with a good bulge at the edge, a bit chewy with lots of flavor, and cooked quickly in hot brick ovens.

Vegetables
Vegetables are usually ordered on their own with main courses and typically include artichokes, bitter greens, and salads.
The most traditional dish is artichokes served in two different styles. Carciofo romanesco is trimmed and stuffed with a mix of finely chopped garlic, parsley, mint, oregano, and pepper, then braised until tender. Carciofo alla giudìa or Jewish style is smashed slightly to open the leaves then deep fried whole.
Also popular is the ubiquitous cicoria, a bitter green related to the dandelion, prepared ripassata (sautéed with olive oil, garlic, and a touch of chili) or all'agro (boiled and topped with lemon and a little olive oil).
Puntarelle con acciughe are the sprouts of Catalonian chicory served fresh as a salad with anchovies.
Fiori di zucca are also popular, zucchini flowers stuffed with mozzarella and anchovies, dipped in a batter, then deep fried.

Meats
Meat in Rome is prepared in a similar style to Florence, either roasted, slow cooked, or braised. Preparations of offal, referred to as quinto quarto or fifth quarter, are very common and popular in traditional Roman cooking.
You will find slow cooked dishes like pollo con peperoni (chicken stewed with peppers), allesso di bollito (slow simmered beef), or coda alla vaccinara (the local version of oxtail with tomato sauce, herbs, pine nuts, raisins, and bitter cocoa). Or perhaps you'll like the delicious slow roasted porchetta, often sliced and served as a sandwich.
Seared dishes like abbacchio allo scottadito (seared lamb, literally "scorched fingers") or saltimbocca a la romana (pounded veal, prosciutto, and sage, stuffed and rolled up and cooked in white wine and butter) are also very popular.
Trippa alla romana or Roman tripe (stewed cow's stomach) is some of the best tripe I've eaten, cooked slow in a tomato sauce until tender. There were two other offal dishes I had never tried before and I went out of my way to track them down.
Coratella coi carciofi, "Quinto quarto" cuts of meat, heart, lungs, and other insides, slowly cooked with artichokes. This one was a bit difficult to track down but I did manage to find it.
Finally, we have pajata, the intestines of a suckling calf that still contain the partially digested mother's milk. Lengths of the intestine are tied together in loops like a sausage and simmered in tomato sauce, then added usually to a rigatoni with some pecorino. The resulting "sauce" inside tastes a bit like ricotta cheese and the intestines are fairly soft, not chewy. Honestly, it tasted pretty good but I had trouble getting over the mother's milk aspect for some reason.

Fried things and street food
Romans are also fond of fried bits usually eaten as street food. The most popular of these is the suppli or rice croquette. Rice is cooked with a sauce until thick and sticky, cooled and shaped into balls, then battered and deep fried – often with a bit of mozzarella inside. Although, we found supplis in a variety of flavors and styles.
Another recent invention is the trapizzino. A thick triangular piece of focaccia-like bread is opened on the wide side and filled with various ingredients like a meat ice cream cone. I tried four different kinds and loved them all.
Dessert
And last but not least, a few sweet things. The historic breakfast food in Rome was the maritozzi, an oblong yeast bun, split, then filled with a heavy unsweetened whipped cream. These can still be found in cafes across the city. Or try the more modern crostata ricotta e visciole, a sweet tart filled with ricotta and sour cherries. I prefer the sweetness of these tarts.
Of course, you'll have no problem finding the well-known tiramisu or gelato which is everywhere you find tourists.

Cacio e pepe at Roma Spirita
There are several great traditional trattorias located along Via Santa Cecilia/Via dei Vascellari in the lower part of Trastevere near the bend in the river but I had my cacio e pepe experience saved for one particular restaurant, Roma Spirita. They specialize in the dish, but my reference was from Anthony Bourdain's No Reservations Rome episode where he has a transcendent cacio e pepe experience and decides to never reveal the location of this restaurant, calling it Restaurant X. (Though a quick google search can unearth it.) It was fun to relive that scene. I'm sure there are probably better versions, cheaper versions, more casual and Roman places to try it, but I wanted to have it here. And I did.
I started with the cacio e pepe of course and threw in an order of carciofi alla guidia (Jewish style fried artichoke, you eat the leaves like crunchy chips) and cicoria all'agro (a relative to the dandelion green, boiled and topped with lemon and olive oil). We ordered the house red, no need to get fancy, the wine is delicious, and as a secondi, a plate of the trippa alla Romana.
The place was an explosion of local families having their Saturday lunch. The little street is not exactly a secret from foodie tourists but we felt like the only tourists in the house, so maybe Tony's caution worked out for the best.

Pasta alla gricia at Trattoria Da Teo
This is another of three trattorias that I visited on Via Santa Cecilia/Via dei Vascellari, a very traditional place mobbed with locals and a few odd tourists that managed to get a table. Things got off to a bad start when we arrived two minutes before our reservation and the waiter yelled they weren't open yet, then proceeded to let us stand at the door until another couple arrived ten minutes later, then seated them without acknowledging us. Like all tourists I assume, we were shown to the worst table on the patio even though we booked a week out and were the first to arrive. After a bit of uncomfortable negotiation, we were reseated to a better location but quite honestly I started my meal a bit miffed and it took me a while to enjoy it. But in the end, it was a great meal and we had a fabulous time. They seated the next obvious tourist to arrive in our original seat.
We started with a couple of starters the waiter recommended, an interesting fried meatball and a plate of meat stuffed olives that were then fried. It was a bit too much fried all at once but they were both tasty. Next was the pasta, the rigatoni gricia. Not quite as exciting as the carbonara or the amatriciana but I am a completest. Cheesey, meaty. Who can say no to guanciale? Then came the abbacchio allo scottadito or seared lamb for the secundi. I've had a lot of lamb and I wasn't expecting all that much but it was some of the best lamb I've eaten. And for dessert, a small bit of mascarpone cream topped with wild strawberries and a glass of amaro, the first time I had the Jefferson. The house provided what appeared to be torcetti as another dessert.
The food was good, it's hard to deny. But the service left a bad taste in my mouth. This was the only rude service we had in Rome.
Bucatini all'amatriciana at Giulietta Vino e Cucina
This fabulous place was only a block or so away on Via Giulia from our apartment and we happened by more out of convenience than credentials. But it was a real gem. The street wasn't zoned for restaurants so there was a funny ritual of being let in by the owner and then ordering your meal by writing it on a piece of paper that was delivered to the kitchen which somehow circumvented the zoning. But that just made the meal all the more charming.
We started with the carciofo romanesco which are still the best artichokes we had in Rome. Next a mixed green salad. It's driving me crazy but I can't identify these greens. We later bought them in a grocery store and made our own salad, they were amazing, but I can't find them through an image search or through salad green research. If you know them, please let me know. Then for the pasta, the bucatini all'amatriciana was likewise delicious with boiled beef and potatoes for the meat. The house wine was great. The service was great. We loved this little place. I had a little tiramisu and coffee for dessert. A perfect meal for our first night in town.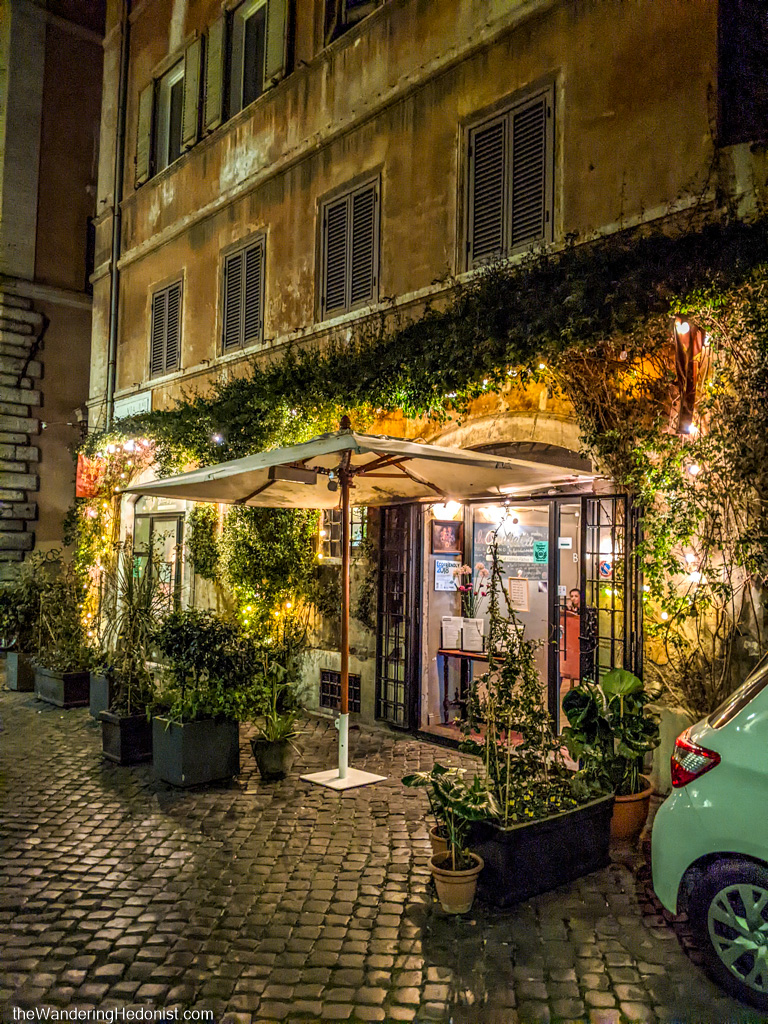 Strozzapreti carbonara at Osteria Da Fortunata
This place made my list for handmade pasta. It was only a few blocks from our apartment and we stopped by on our way to the Pantheon. There was a decent line, pretty much the entire time we were there. We waited maybe a half hour or more in the sun and then we were at our table. I wasn't sure at first but this place was definitely worth the wait. In the window you can watch the pasta being made by hand. Of special interest was the house strozzapreti. I chose this place for my carbonara experience and I wasn't disappointed.
We started with the puntarelle con acciughe, a salad of fresh Catalonian chicory shoots, stripped of leaves and dressed with a few cured anchovies on top and a second mixed salad. We were craving greens. For the pasta we ordered strozzapreti carbonara, a traditional carbonara with a handmade pasta, essentially an enlongated cavatelli literally translated as "priest-strangler". Perfect for carrying the rich carbonara sauce. And then for the secondi, Katy ordered the rabbit cacciatore that she loved so much from Florence. We ordered two desserts, the chocolate mousse and the crostata alla marmellata with espresso.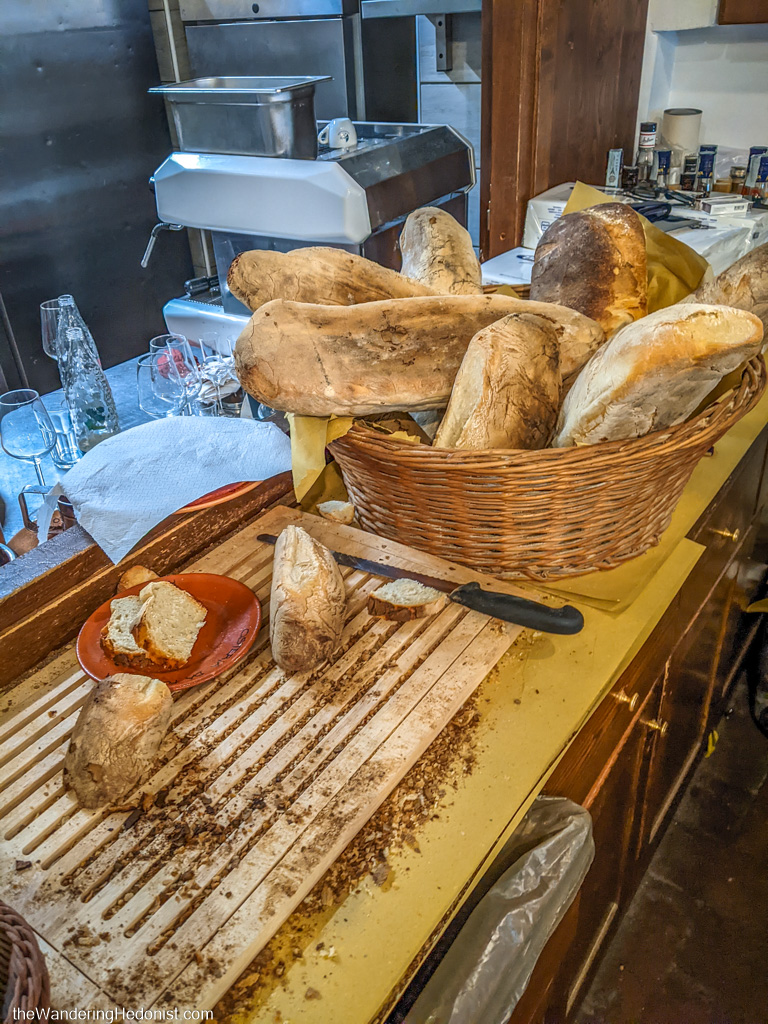 Ristorante le Mani In Pasta
This was another traditional trattoria on Via Santa Cecilia/Via dei Vascellari only a block from Roma Spirita. It reminded me of one of the many places we dined in Florence. A packed room seated side by side with waiters running full speed to satisfy the local diners. If you're not used to this style of dining it can be a bit uncomfortable to be seated so intimately with strangers. But it was familiar to us so we settled in for a fantastic meal.
It's not exactly the place for traditional pasta, the house specializes in seafood, so we ordered the tagliolini with cherry tomatoes, sea bream, and shrimp. My focus here was on the saltimbocca a la romana and they have a good one. Thin slices of veal are layered with ham and sage, pinned together, and simmered in butter and white wine. I ended the meal with a nice glass of amaro and felt very at home.
Trapizzino
Chef Stefano Callegari worked as a flight attendant for 15 years before returning to Rome and inventing a well-loved street food called the Trapizzino. Trapizzino is a combination of tramezzino (sandwich) and pizza. Stefano created his own unique crispy pizza-style bread which he then filled with a variety of traditional Roman fillings. The bread is cut in a triangular shape and then the broad end is split and filled. It's sort of like an ice cream cone. The fillings can range from meatballs, lingua, or tripe to cream and mozzarella with anchovies. One is a snack, two can be a meal. The restaurant also specializes in suppli, a fried rice crochette, that they make in a variety of flavors. My suppli was a cacio e pepe flavor.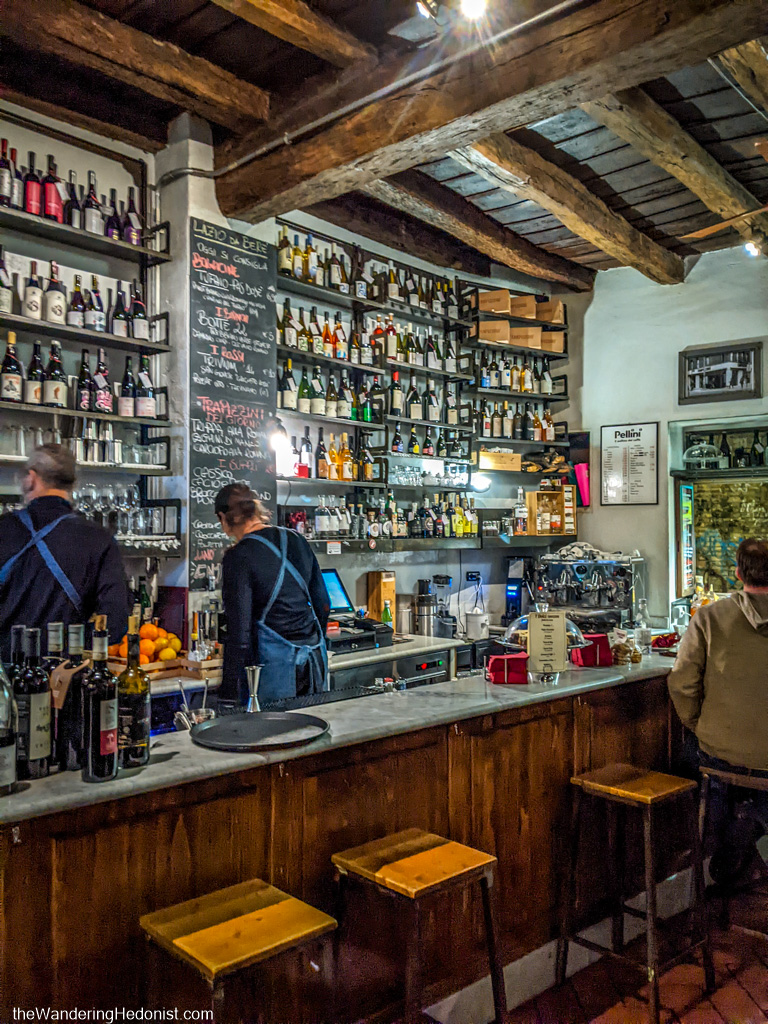 Emma Pizzaria
Emma's was recommended to me for the fiori di zucca, a zucchini flower that's stuff with cheese and anchovies, battered, and deep fried, but they specialize in pizza. So we decided to get our Roman pizza on. I ordered the Napoli pizza.
Rigatoni con la pajata
This was one of those uniquely Roman dishes that I read about online and had to seek out. The intestines of an unweaned calf are removed with the undigested mother's milk left inside, then tied in loops and cut to form small circular sausages of a sort. When cooked the dairy and the rennet from the half digested milk form a type of ricotta-like cheese inside. The loops are usually cooked in a tomato sauce and served with a pasta, in this case rigatoni.
I'm usually a champion of offal in all of its forms. It's delicious and if you're going to eat meat, I think its essentially moral to do so. But I have to admit there was something about the mother's milk in this one that kind of got to me. Don't get me wrong, it was pretty tasty. I can certainly see why the dish is so popular in Rome. And it's just a personal mental block that I need to overcome, not a comment on the dish. I did eat several of them and gave it a shot but there was a lingering uneasiness. I suppose the same uneasiness other feels at many of the dishes I enjoy. Maybe next time.

Coratella coi carciofi
This was the other Roman quinto quarto dish that I had to track down. Not nearly as easy to find as the pajata. But I did manage to find a delivery place that sold it.
This dish is the heart, lung, esophagus, and other innards of either a young cow or lamb, chopped coarsely then sautéed with artichoke. Mine also seemed like maybe it had some liver in there too. But you get the idea. Basically a haggis with no oatmeal served loose on a plate.
Honestly this dish sounded very good to me. I tend to like this sort of thing and I was excited to try it. But in reality it was only so-so. Perhaps I didn't get the best preparation, it was fairly one note, and didn't have much seasoning to speak of. And since I had ordered take out there was no plating or garnish so the color was not the most appealing either. Just a creamy pale green. I mean it was fine but not my favorite. I would definitely give it another shot if I found it at a restaurant I trusted.
Panino con la porchetta
Porchetta is a moist and fatty boneless pork roast with all fat and skin left on, stuffed with garlic, rosemary, fennel and other herbs, then spit roasted for at least 8 hours. Traditionally this is done over wood for extra smokiness and sometimes the pork liver is included in the roast as well. When done the porchetta is either sliced a bit thick and served on a plate or sliced thin and served as a sandwich or topping for pizza or other dishes. When you run across a porchetta joint, take the time to try it.
In Florence we saw many small stand-alone porchetta places, usually sold over a counter as street food, the meat cooking on spits directly behind the cooks. In Rome, I didn't have that good fortune, but I know they were somewhere and the dish is common in the area. I found this porchetta sandwich at the Vatican cafeteria and it was fantastic.
Dessert!
Normally I'm not having dessert every day, but I make it a point to try any local specialties when I can. In Rome, the morning pastry, at least traditionally, is the maritozzi, fist-sized yeast buns, split, then filled smoothly with a dense whipped cream. Strangely neither the bun nor the cream were sweetened. So it was rich but not what I was expecting. They added a sploosh of whipped cream from a can on top and it was also unsweetened. Interesting. Not bad. But I think I missed the sugar. (*wheeze* *wheeze* "Hey man, d'ya got any … sugar? *pats arm* "I could really use some sugar.")
Another classic local sweet is the crostata ricotta e visciole, kind of like a thick crusted tart with a sweet ricotta filling and sour cherries. I had a single serving version at a coffee shop that was excellent.
And of course the cannoli. Which are some of the best in the world. And though not as exotic, the tiramisu and the tourist favorite, gelato.