At this point in my life, my list of must-visit restaurants is getting very short. When we decided to fly to the UK, there was only one place I wanted to go. I was an early fan of his underground nose-to-tail cookbook, a treasure trove of dishes that, aside from die hard foodies and industry professionals, Americans were quite squeamish about. Old world rustic preparations of organ meats and odd bits that have fallen out of favor, especially without a cultural reference to celebrate them. But to me, these are some of the most delicious dishes, more so than the prime cuts that you'll find at the grocery store. And on a personal note, a more respectful way to eat, one that celebrates the preciousness of sacrifice that modern people have become so removed from.
With encouragement from his kiwi chef wife, Margot, Fergus Henderson opened St. John in 1994 in the remnants of a previous smokehouse in the unlikely decaying Smithfield meatpacking district on the edge of London. And he has been steadfastly championing rural English farmhouse cuisine ever since, earning a Michelin star in 2009 and frequently appearing on Restaurant Magazine's 50 Best Restaurants list. The restaurant has spawned its own bakery and winery and several satellite bars and restaurants across London.
I would also like to add that St. John is not just a curiosity of offal and strange plates. These dishes are only a part of the overall collection of recipes that celebrate traditional rural cooking. A revival of classics that have all but disappeared from menus. From lamb and seafood to pigeon and squirrel. And the occasional but essential ox heart or devilled kidney.
His influence on modern cuisine is undeniable, a champion of hyper-regionality and seasonality a decade before René Redzepi topped the world's best list with his New Nordic Cuisine. When once it was inconceivable for American grocery stores to carry anything but the most benign cuts of meat, it is now common place to find beef cheeks, offal like hearts and tongue, and old peasant inventions like pork rillette or course country terrine. There is still more prejudice to overcome but the foundations have been laid to revive a more economical and less wasteful cooking palette and the rediscovery of unimaginably delicious things to come.

Arrival
We arrive in a cab down Smith street in the Smithfield district wrapped in the cold grey embrace of London, the street shiny from a fading drizzle. The city is paralyzed by the Tube strikes, taking 45 minutes for what normally would be a 15 minute journey. But the street here is deserted without cars or people. The entrance is modest and if you weren't paying attention it would be easy to walk past. There's nothing flashy about St. John. The deep entryway is deserted with only a sign and arrow: "To bar and dining room". The space is long and narrow, first into a pink lit but empty overflow seating atrium, then finally into the bar. At this point I still am confused about how to enter the dining room. But to my right a set of metal industrial stairs to a door, and inside an open room of tables.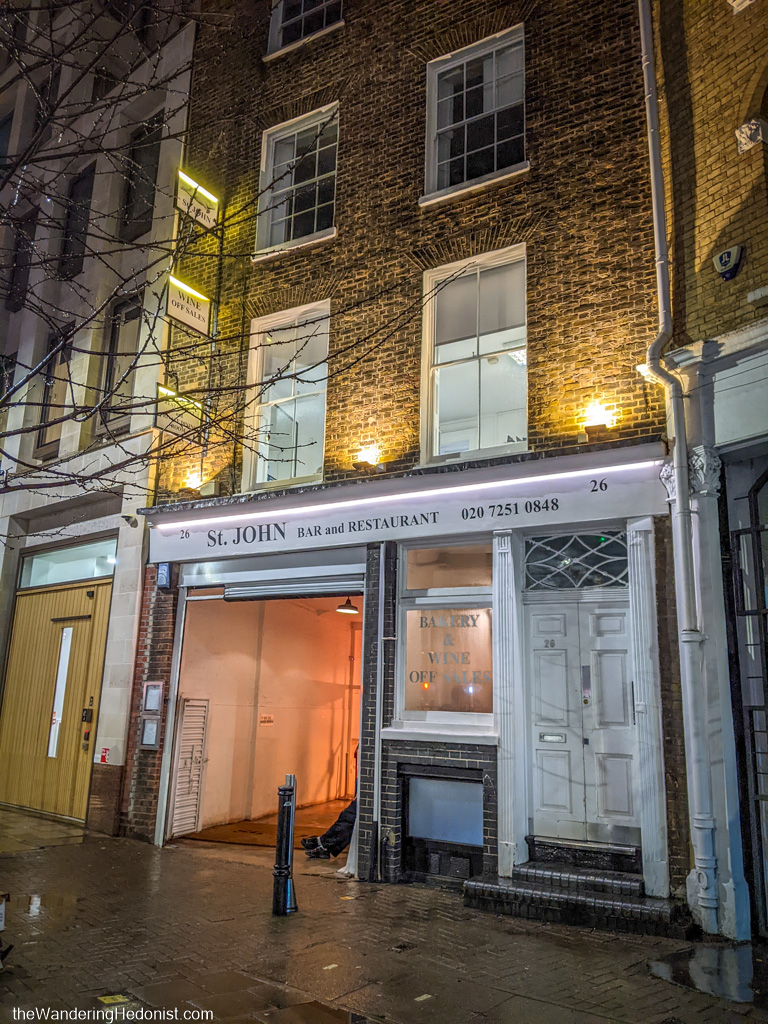 The meal
The menu at St. John changes every day depending on what is available, seasonal, and fresh. The options are a la carte, as they have always been. An equal selection (about 8) of starters, mains, and desserts, a few add-ons like greens and salad (and a Welsh rarebit), and fresh made madeleines in half or whole dozens. The wine list is extensive but not overwhelming with all French wines featuring house varieties from their own winery.

Getting started
This is the stuff. Simple. The perfect loaf of peasant bread. Crisp almost burned crust, an airy, spongey core. The elasticity of gluten. These small but elusive things. There is love and attention to detail. The dark yellow of a farmhouse butter. It's something that you see at every dinner you have. But even this, here, is special. I can recognize it immediately. I know this bread comes from Fergus' own bakery. And like the basic truths of life, it encapsulates all truth. I can see the meal to come in this humble slice of bread.
We order the St. John Cremant 2019. I know this comes from the company's own winery. Made to their own specifications.

Starters
For most meals, the star lives in the main course. The starters are simply supporting characters. But at St. John, the signature dish, maybe the only dish that stays the same from day to day, from the days when the restaurant first opened, is the roasted bone marrow with parsley salad. Two slices of toasted bread, roasted marrow bones, course sea salt, and a small salad of parsley, onion, and caper. It is the philosophy of Fergus' cuisine on a plate. The most humble of ingredients, prepared without fuss, made delicious, and beautiful on its own, a timeless relic of tradition, as comfortable today as it was a thousand years ago.
To round it out, we choose the parsnip soup with crispy back fat. The same philosophy applies.

The main course
I want everything. But I settle on the pigeon. I love pigeon. And I figure if anyone is going to do it right, St. John will. There's a resistance to pigeon in America as a dirty nuisance bird but there is a long tradition, the reason you find so many pigeons around the world, of raising them as game. Served just cooked through, a bright red, pigeon is delicate and sublime. Served here with a dark caramelized skin, swede (or rutabaga), and pickled walnuts to round out the savory flavors.
Katy orders the braised beef, red wine, and mash. As it sounds, but really good.
To kick the meal over the top, I order the Welsh rarebit. Fantastic. I used to think it had something to do with rabbit, I blame Bugs Bunny. But it's a fantastic cheese toast using a strong cheddar cheese, a dash of stout beer, a bit of butter and flour, then seasoned with worcestershire sauce, a strong mustard, and finished with cayenne pepper or paprika. It's spicy and rich. I have to say my personal recipe is pretty damn close to this one.
We switch to the house rouge.

Dessert
For dessert, I choose something that I have a great fondness for: the lemon posset. A bowl of lemon cream custard. Executed perfectly. This dish, like the restaurant, needs nothing to adorn it. It stands perfectly on its own. Unpretentious. Leaving me with the culinary equivalent of stiff wood in my metaphorical trousers. Well done, Fergus. Well done.

The details
Fergus Henderson trained originally as an architect, the child of two architects. And so, there's nothing accidental about the simplicity of St. John. It is the chef's willful intention to leave, almost everything, away. No music. No art on the walls. No color. The floors and tables are white. The plates and bowls basic cafe white. The employees in their simple white aprons. The furniture, what little there is, functional industrial kitchenware. You hang your coat on the walls. You focus your attention on your meal and the friends with which you are dining. Casual and comfortable. The environmental detail is in the lack of conspicuous detail.

The restaurant
The restaurant consists of two primary spaces. The bar, through which you must travel to reach the dining room. An open and noisy space with simple tables and not much else. Then a flight of stairs up and a second open space with tables and an open kitchen. With a second overflow room in the back that's enclosed.
When you enter from the street there is a single entryway and door that leads to an atrium of overflow tables, then a second door that leads into the bar. That's pretty much it. A set of black metal stairs leads down into the bathrooms.