Abantal was opened by Andalusian chef Julio Fernández Quintero in 2004, and shortly after he won best Andalusian chef in 2005. By 2008 he achieved his first Michelin star which Abantal still retains 14 years later. Abantal is founded on presenting fresh Andalusian ingredients in an elevated style, traditional dishes with a modern edge. Foremost in those ingredients is olive oil which Julio believes is the cornerstone of Andalusian cuisine.

Arrival
Fortunately Abantal was only a couple of blocks from our apartment so it was a short and easy walk. The restaurant is located on a side street in the middle of the city. If there is any parking I believe it will be street parking. We were greeted at the door right at opening and got our pick of tables.

The meal
Abantal has two tasting menus. The Gran Daily Chef Tasting Menu with 12 courses (14 including amuse bouche and petit fours) at 100 euros and a wine pairing of 6 wines for 45 euros. They also offer a Daily Chef Menu with 9 courses at 80 euros and a wine pairing for 35 euros. I chose the Gran Daily with pairing and the meal lasted just over 3 hours.
First course – amuse bouche
Snacks
This was a fun selection of tasty nibbles. Each surprising and delicious. It was a great omen of things to come.


Second course
Red tuna belly with peppers dressed, tomato and black olive
This is a soup course and comes in a large bowl shaped like a stone with a bit of red liquid and what appears to be a large river stone in the middle. The liquid is red tuna belly and tomato emulsion and the "stone" is actually a mélange of peppers and tomatoes covered in a hard shell that cracks open like magic shell. This dish was not only delicious but a bit magical and playful as you discover the components. The bread came in handy to eat the last bits of soup.


Third course
Oyster with cream of corn and dill, apple and cashew
This was a dichotomy of simple and complex. The simplicity of a raw oyster from Cádiz, in this case one of the best oysters I've ever had, an overwhelming taste of the sea lingering on the palette, with no embellishments. And complex, a mix of flavors starting with a local cream corn paste with dill, an apple foam with pickled onions, and cashews. Still nothing beats the taste of a good plain oyster, no complexity needed.


Fourth course
Baby squid with spinach stewed and citrus broth
This was a fun play on espinacas con garbanzo, a classic tapas dish, except the garbanzos were balls of piped humus, then a bit of baby squid on top. The dish is first presented dry then a rich broth is added to create a seafood soup. Very delicious.


Fifth course
Iberian "socarrat" rice with swordfish tartare
This was a fun take on paella. First two disks of just the crunchy underbelly Valencian rice you would find in a good paella, then for the seafood a fine dice of swordfish tartare and some basil emulsion to round out the flavors.


Sixth course
Large red prawn, sauté bulgur and tomato
This dish was all about the red king prawn. I have to say, I've laid down some serious change for large seafood over my life and often I'm disappointed to be honest. It's been hard for me to justify. But this prawn was -amazing-. Tender, sweet, a complete song in your mouth. I don't remember the bulgur or the sauce. But I remember exactly how that prawn tasted.


Seventh course
Sea bass, roasted vegetables cake and light garlic soup
Our server said this dish was adapted from the chef's mother's recipe. Often a fish course like this can be unremarkable but so many small elements came together to make it quite good. The fish was cooked souse vide perfectly without the skin, then the skin fried crisp and reattached, so that the bite would melt in your mouth and yet still had a nice crunch. The leaf shape was made from cauliflower and toasted for texture, the soup was flavorful but not overpowering and the onion added a nice balance. Although the onion was a bit fibrous and difficult to eat easily.


Eighth course
Duck, onion and truffle
Sadly I can't remember the specifics, but this dish was originally created for a king with no teeth. The duck was cooked so soft that you did not need to cut it. First served on a cracker with caramelized onion emulsion, a broth is then added which softens the cracker and adds an even more intense explosion of umami. The sliced black truffle is just a decadent explanation point. But why the hell not.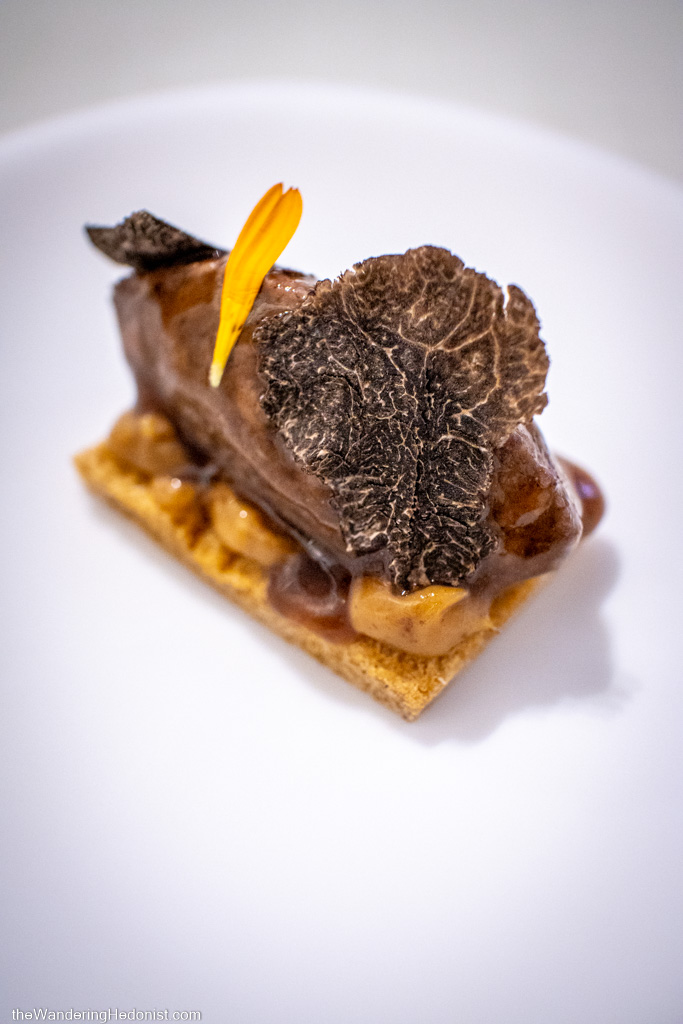 Ninth course
Crispy beef cheek with P.X. sauce
This is a bit of a play on a typical local tapas of a beef cheek croquette. Except here the beef is cook, cut into small pieces, mixed with a sauce then coated with a crisp shell. Served with a savory flan.


Tenth course
Iberian sirloin, sweet potato, shallot and hazelnut
Conceptually a straightforward steak and sweet potato dish. But the meat was cooked so tender it was almost like the duck. Very delicious.


Eleventh course
Passion fruit cream, frappe mint and chocolate
A great first dessert. Very tangy, not too sweet. And the savory bread bites would reset your palate intermittently. I would not have thought of this dish but it was quite good.


Twelfth course
Pineapple and ras el hanout sponge, white chocolate and rooibos
A well balanced pineapple sponge cake with a white chocolate cream and dots of tart pineapple sauce.


Thirteen course
Raspberry, cardamom and lemon
And of course my birthday cake! Actually Katy got the same desert sans candle but it was still a fun addition. Bright, tart, sweet, gels and whipped layers.


Fourteenth
Petit fours
Your standard collection of post dinner snacks and coffee. Gel bites, small cookies, a cordial. Amazingly I had room to enjoy these.


The wine
Grand chef daily tasting menu wine pairing. Price 45,00 euros/person.
Manzanilla Maruja, Sanlúcar de Barrameda.
Pazo Casanova, Ribeiro.
La Fanfarria, Asturias.
Clos Ancestral, Penedés.
Márquez y Bengoa, Rioja.
Cream Los Caireles, Jerez.
The details
Abantal is a minimalist restaurant but the details were all well thought through. The texture of the linens, the solid colors but subtle texture of the plates. Lots of variety in the style, texture, finish, and shape of the dishes but cohesive as a set and though mostly black and white, a splash of well placed color here and there.
My only disappointment (and I know this is just a personal thing) was the sad stack of paper napkins in the bathroom.

The restaurant
The restaurant itself is pretty minimal, mostly a single open room with physical dividers like shelves to delineate the dining area from the reception. The tables are spaced apart, I assume for a better covid environment. The kitchen is entirely enclosed so I never got a shot of what was going on back there. It's funny; this used to be the solid norm but the trend of an open kitchen has become so prevalent that it felt odd not to see the cooks preparing the food. The focus was definitely not on the environment but it wasn't distracting either. It quietly got out of the way of the food.
And though Abantal's state of the art kitchen is enclosed to the main dining area there is a chef's table inside the kitchen that seats up to 10.