Driving Highway 101 north through The Avenue of the Giants and Redwood National Park.
153 miles
From Leggett to Klamath, CA.
After the first leg of our west coast road trip up highway 1 from San Francisco, we connected with highway 101 and continued north through the redwood forests of northern California for our redwood roadtrip. After a bit of roadside kitsch we stopped in Garberville for the night for a good meal before heading into the Avenue of the Giants the next morning. It's impossible to communicate the scale of these forests. It makes you feel small again. We were so in love with this area that we made an unplanned stay at a park campground before continuing north to the Redwood National Park where we spent a few days camped amongst elk herds and explored the nearby trails.
Legend of Bigfoot roadside attraction
Driving north from the Leggett to Garberville winding through forested roads, you can't miss this amazing little house of kitsch. Big chainsaw sculptures of bigfoot, giant plastic garden gnomes, or just palm sized trinkets, this little shop has a giddy array of bigfoot and redwood souvenirs. I don't accumulate much these days but I've always loved these roadside attractions. And the Legend of Bigfoot will not disappoint.

Garberville
Our first stay on our redwood road trip adventure was at Garberville, a great stop just before the Avenue of the Giants. A surprisingly interesting town with healthfood shops, hippy stores, and really good restaurants with a PNW vibe that made us feel at home. Given our recent history with small desert or logging towns, we weren't expecting much, but had one of best meals here and a fun time browsing some local shops. The Best Western Plus isn't much to look at from the outside but the rooms were quite nice.
We chose to eat at Cecil's New Orleans Bistro which turned out to have amazing cocktails and a decent selection of well made New Orleans food. I would definitely eat here again.

Avenue of the Giants
This scenic winding stretch of road was the main route 101 through this section of Humboldt National Forest until 1960 when a faster bypass was opened. This road now runs parallel to 101 as SR 254. This roughly 32 miles stretch has some of the best pound for pound experiences of the redwoods you can find and we went absolutely crazy snapping pics and exploring the forests. We spent two days in this area and you could spend a lot more time there if you have it.
The road has several stations marked on a free pamphlet that you can stop at along the way and dozens of more spots that you can discover on your own. This is an absolute must-see on your redwood roadtrip.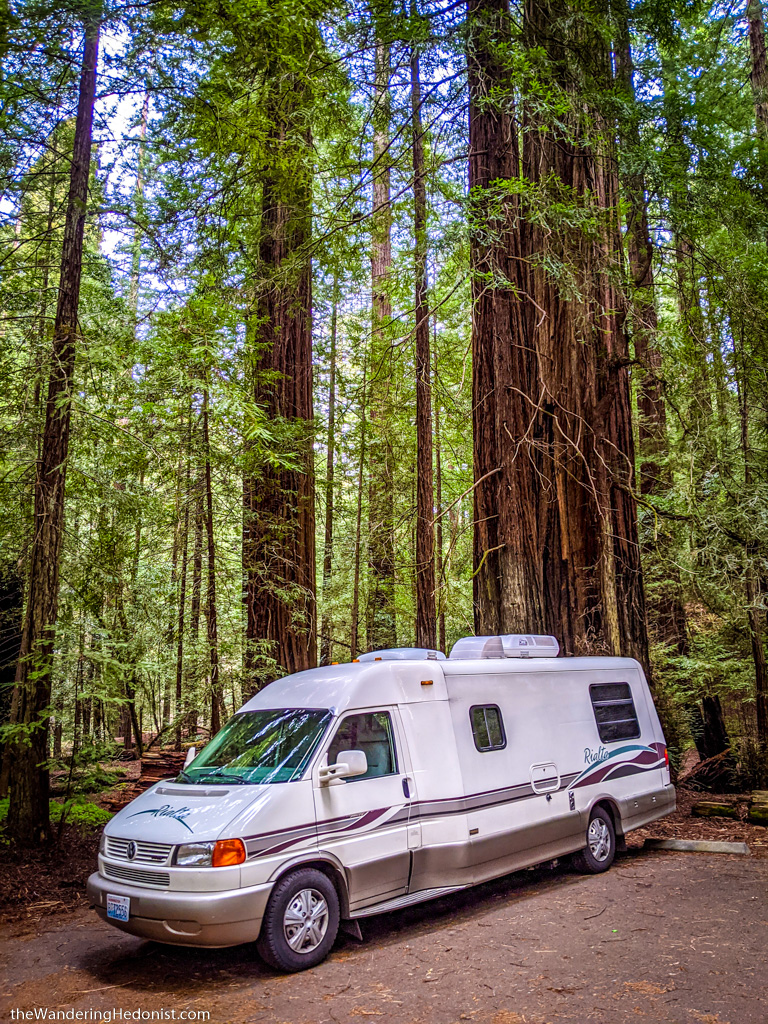 Burlington Campground – Humboldt Redwoods State Park Burlington
We had originally planned to drive straight through to Eureka and on to our campsite, but when we stopped at the Burlington visitor's center, we realized there were first-come campsites still available right in the heart of the forest. We were ecstatic to make camp under the dense redwood canopy and enjoy a fire and relax a bit. This is a great location to make a home base for exploring the area with plenty of trails nearby so you don't even have to drive to experience the forest. You can reserve ahead so don't overlook this campground if you can find a spot.

Shrine Drive Thru Tree
When I was in my 20's I made this same journey living in a car and driving around the country. The west coast had a serious impact on me and this area in particular was pure magic. One of the experiences that I have thought about often was my stop at the Shrine Drive Thru Tree. The tree itself is just a bit of old roadside kitsch. But my favorite part was this two story "house" carved from an enormous hollow tree stump. Not only was the outside decorated (these are common in the area) but the inside had been carved to have a small kitchen, a wooden couch, bookshelves, and even a miniature roman palazzo created for the mice. Stairs lead up to a second floor with windows. I bought a postcard of it and still have it in my collection of magical things. Since I was here last, they had added a second smaller house but it pales in comparison to the original.

Elk Country RV Resort & Campground
For our stay near the Redwood National Park we found an RV campground just past Eureka and only a short drive to the park. This is elk country and this particular campground hosted a wild herd of elk that would lounge around the nearby fields during the day. The store and campground amenities were pretty average but we enjoyed staying in the lot and the elk were pretty spectacular.

Orick, CA
The closest town to our campground was Orick. Orick was looking pretty damn rough to be honest. The couple of local motels looked more like meth camps and most businesses had been shuttered. But there was this one little burger stand in town that I quite liked, Edebee's Snack Shack. They serve a variety of beef or elk burgers that are quite good and a really decent chili dog. It's outdoor seating only so it's perfect for your pandemic dining needs.

Redwood National and State Parks
Redwood National Park is actually an amalgam of various federal and state park lands. The road north of Eureka follows the coast until you reach Thomas H. Kuchel Visitor Center right on the shore. You can talk to rangers here and get oriented. It's your average National Park visitor center. There's access to the beach here and some interesting terrain on its own.
From the visitor center the road turns inland into denser forests. Redwoods are sensitive to the salty ocean spray so they're found offshore and behind protective hills.
From there you drive north and exit 101 onto the Newton B. Drury Scenic Pkwy which runs parallel to 101 through a valley. (actually this route is a bit slower but much easier grade on your transmission) Shortly into this drive you pass through a large field that often has a herd of elk lounging around and the Prairie Creek Visitor's Center with a parking lot and a campground. From here you can take a variety of hikes into the forest.
Katy chose a bit more challenging hike down into Fern Valley and to the coast and I chose to stay a bit closer and hike the shorter nature trails which were fantastic. Enormous trees, lush forests plump with all manner of mosses and ferns, and hidden areas that felt like you were all alone. I would say this was the second must-see location on our drive and was probably tied with the Avenue of the Giants for most photos taken.
Most of these pics are taken on the nearby nature trails around the visitor's center.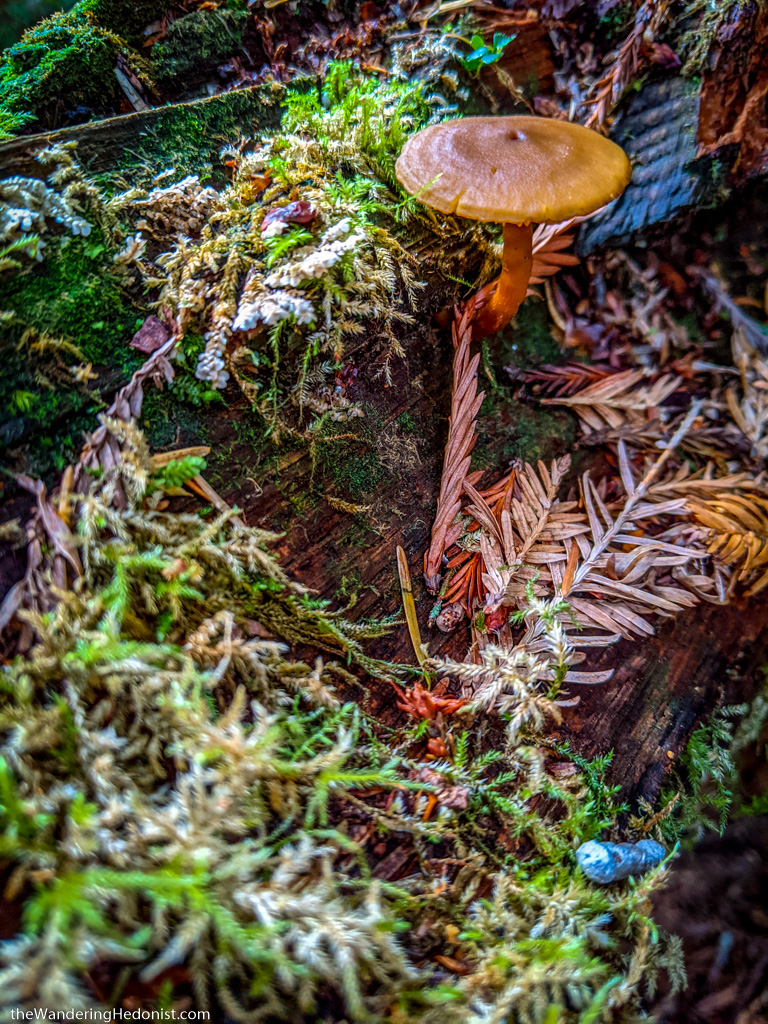 So many different kinds of moss!
We tend to think of moss as just a single thing, that spongey green stuff that grows on shady rocks and trees. But in reality there are over 12,000 different types of moss around the world. Few places that I've visited make that clearer than the redwood forests. Moss seemed to make up its own micro-universe of forests in such diverse forms I couldn't count. Here are just a few of the many mosses and lichen that I took photos of.

I loved this bit of moss shown above. There was a well worn path with no life on it. Frequent hikers had trampled everything into dirt. But there was this bit of root right in the middle of the trail that made it difficult for a boot to smash it. So right in the shadow of that root a whole little ecosystem had sprung up in defiance.
After seeing Katy off on her hike I wandered around a bit eventually following one of the nature trails. I had not been paying attention to signs earlier on and did not notice that the trail was closed seasonally. After an hour or two of winding through the forest the trail abruptly ends in a stream. I discovered later that there is a bridge that is attached here in the summer but removed in the off season. I had to hike back upstream a bit until I found a downed log and could cross.

Newton B. Drury Scenic Pkwy
After a stop at the visitor's center, the road continues north for 10 miles before it connects back to 101. Along the way you'll find a variety of interesting pullouts and groves to explore. Especially interesting was the Big Tree and surrounding area and the massive Corkscrew Tree that is impossible to communicate in a photo.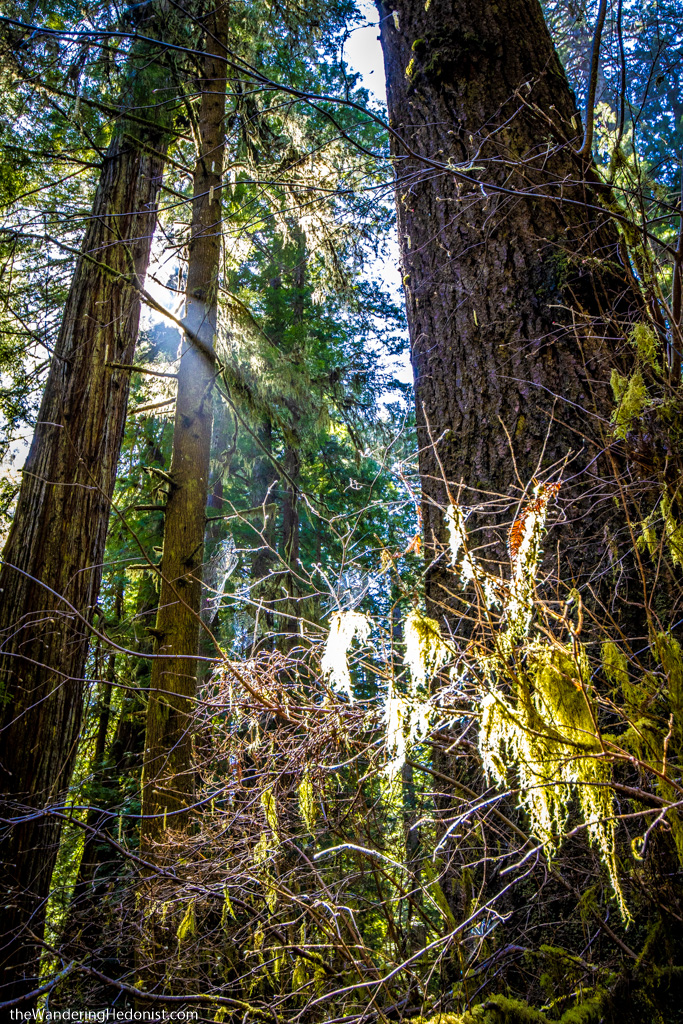 Once we were through the Newton B. Drury Scenic Pkwy, 101 returns to the coast where we started the third leg of our west coast roadtrip. The redwood roadtrip was through but now began the scenic drive up the southern Oregon coast through Crescent City, Brookings, Gold Beach, Coos Bay, and eventually to Florence where we turned right on 126 towards Eugene.