Andalusian cuisine
Andalusian cuisine reflects the deep history and turmoil of the region. You can trace the region's traditional dishes to contributions made by different cultures throughout time. The region was first settled by the Phoenicians around 1100BC who first planted olives and grapevines. 300 years later the region would become the main source of olive oil for the Roman Empire. In the 8th century the region was conquered by the "Moors" (the Spanish term Moors is used to refer to initially North African Berbers and later Arabs and other non-Christian cultures) who brought irrigation farming to produce rice and wheat, they introduced new fruits like oranges, lemons, peaches, quince, and apricots, nuts like almonds and many Arab spices. When Granada fell in 1492 Andalusia and the entire Iberian peninsula returned to Christian rule. This coincided directly with Columbus' genocides of the Americas who brought back potatoes, tomatoes, avocados, peppers, and tobacco. And while this time brought great wealth to the region evident in it's architectural wonders, later authoritarian regimes like Franco would push the residents into desperate poverty and strict rationing. Every scrap of food would need to be used and creative repurposing of left overs created. Many of the local traditional dishes can be traced back to necessity but are now celebrated traditions.

Tapas
The style of food most well known in Andalusia today is tapas. Many Spanish restaurants emulate this style of food by offering small shareable portions that you assemble into a single meal. However in the region these dishes are linked with a social style of eating where a single tapas is paired with a drink at one place, then moving to the next bar for another much like pintxos in the Basque region in the north. There are no tapas restaurants, only tapas bars, because the food and drink are intricately tied. In Granada, some say the "true tapas" can only still be found here, because the tapas are still free. You order a drink, you get a small plate of food. You order another drink, another plate of food. For as long as you like. It's actually quite amazing because the drinks are usually around 2 euros and occasionally the tapas can be quite elaborate.
In Seville, the tapas usually cost around 3-5 euros. Dishes typically are listed with three columns of prices: tapas (small), media (half plate), and racion (full plate) with some dishes only offered in the larger sizes. Typically 2 people can share 4-5 tapas and have a good meal. Or you can hop around from bar to bar and grab a tapas at each, usually standing at the bar or tall table with your drink.
I tried to track down as many of the traditional tapas places that I could fit in, especially the ones crowded by locals. These bars can be quite the cozy experience so be patient and enjoy the crowds.

Paco Pepe
This little place was probably a bit more touristy of the good places we went but we really enjoyed ourselves. It was a block from our apartment so we walked over our first night to check it out. Breezy outdoor tables. We really liked the food. Affordable wine. Less of a local feel but if you're walking by and in need of some food, you probably won't be disappointed.
Casa Morales
This place was recommended for the sherry selection. A tiny place that the locals mob whenever it's open. The first time we stopped by a half hour after they opened it was too crowded to get in. There are only about 6 tables with chairs and a couple standing tables. So we came back the next night 5 minutes before opening and scored a primo seat in the back. The food was amazing. And sherry selection was also quite good. Also funny, we booked a sherry tasting tour at the end of our week and this was the first place he took us. They have the best potato tortilla (like a casserole of potato, egg, and olive oil) in town, we were told. But everything we had was great. And very affordable.
Enrique Becerra
I worked in a lunch here while Katy was hiking. Another local joint with a good sherry menu. I took tapas in the bar and had a few of my comfort foods. Pork cheek, meatballs, morcilla, and bitter orange pudding. Along with red wine. The food was excellent and also affordable. Quite near Casa Morales and has the same old school tapas bar feeling. It's on a touristy street but without outside seating so it seems to be mostly locals inside. I highly recommend.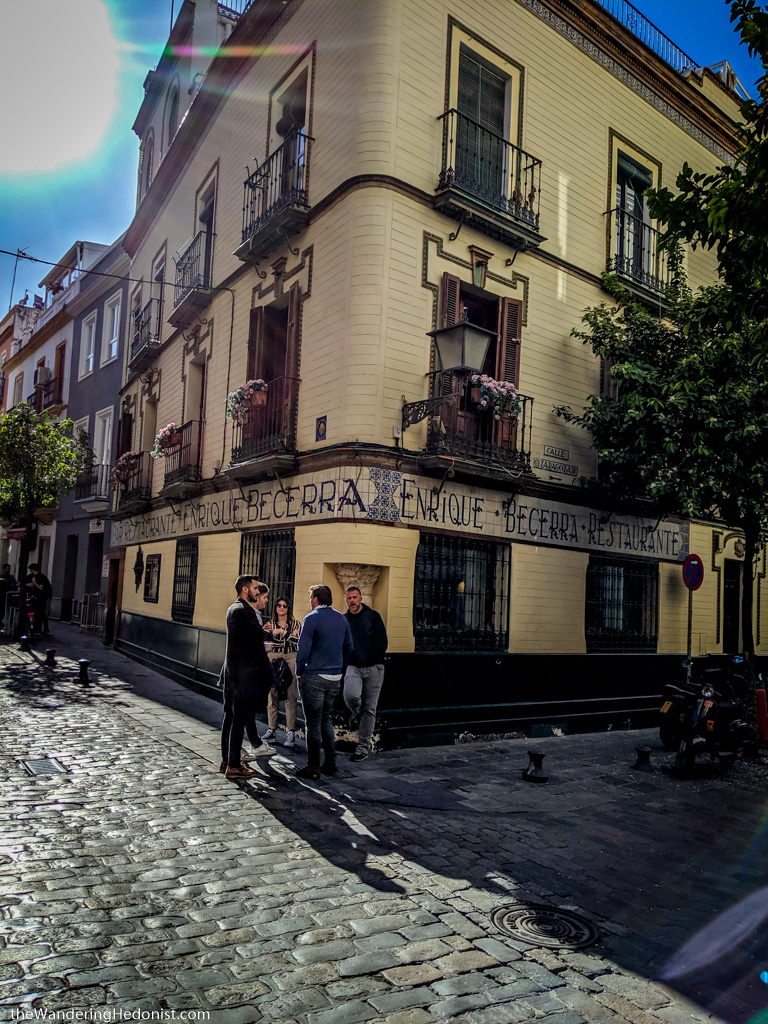 Vinerias San Telmo
Another good sherry spot. Located on the northern tip of the Real Alacazar gardens. We grabbed a table outside. The food is really good but I found the selections a bit more experimental than the last two. We wanted to try something different and not all of the dishes we ordered were the classic sort. It was a great meal but in hindsight I would have stuck to the Andalusian classics.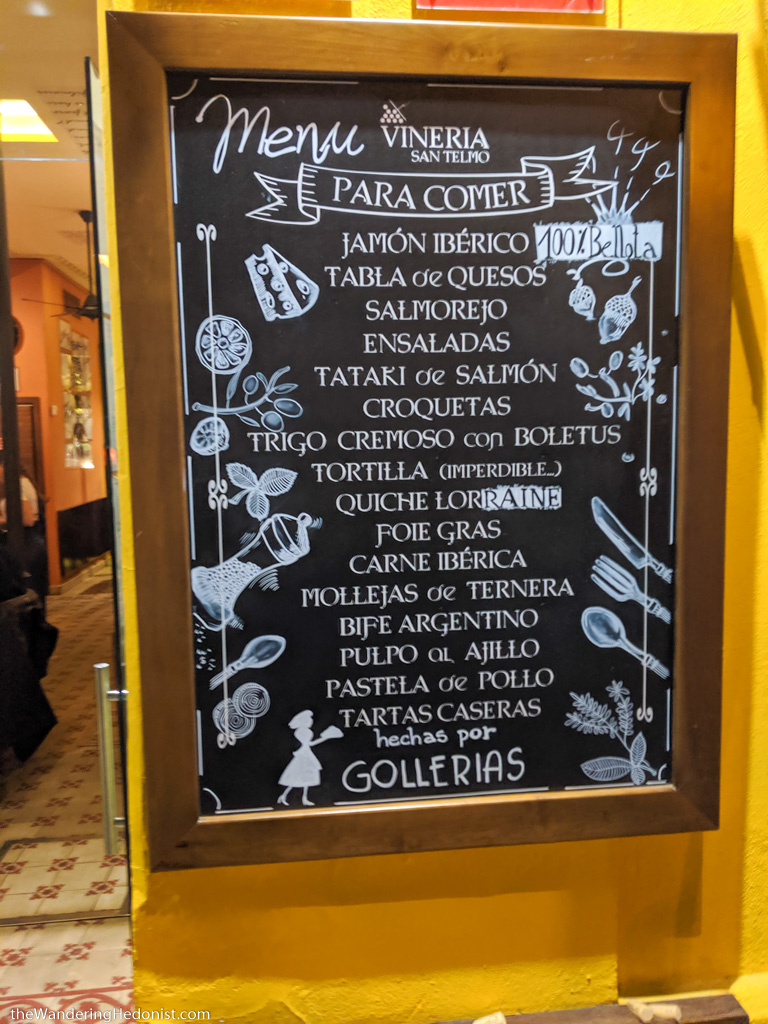 Paco Gongora
We found this place circuitously but were happy we did. Our sherry tour had to take several detours due to the throngs of people out enjoying the sunny day. Our last stop at Bodega Romera had too long of a wait so we were taken around the corner to try the pringa sandwiches here instead and have our final sherries. We managed a small standing table in the doorway. Our final night we came back for a proper meal and got to experience the restaurant a bit better. (Sunday night is not a busy night out). The menu isn't that large but the atmosphere is great and so is the food. Complete with bullfighter decor.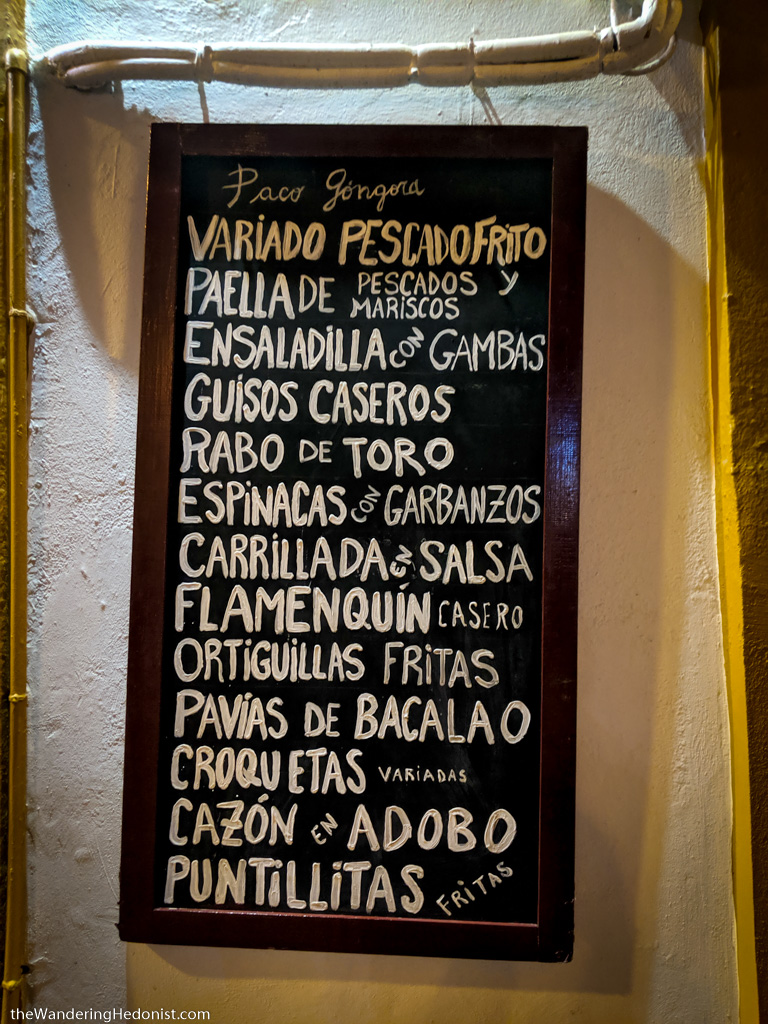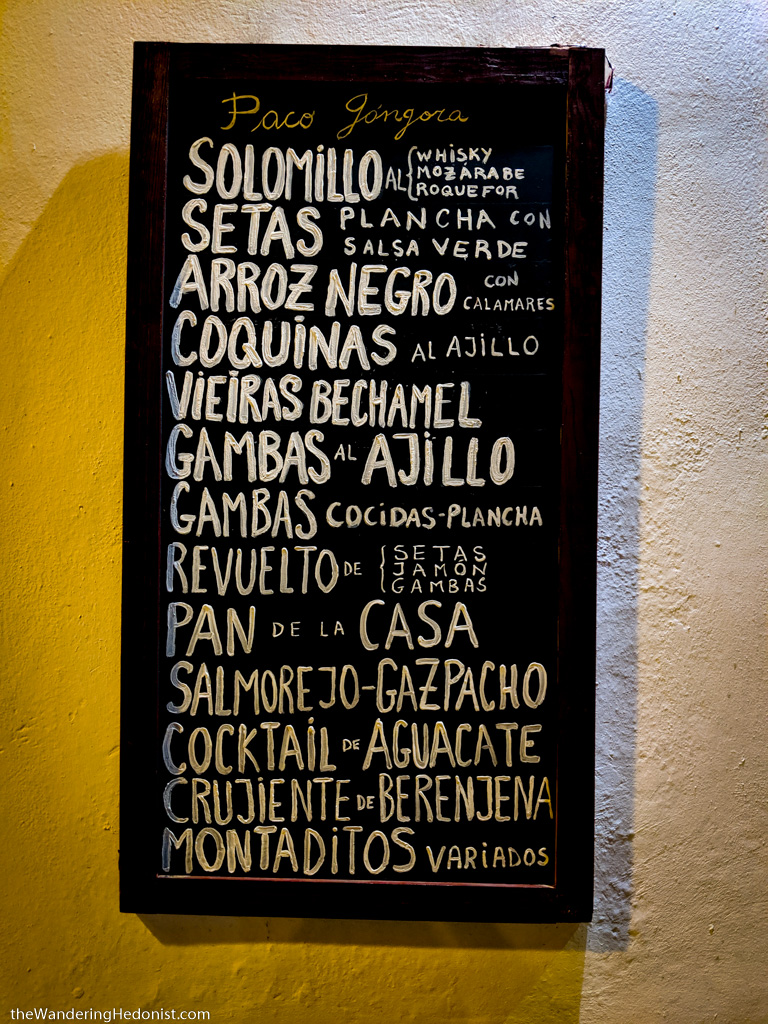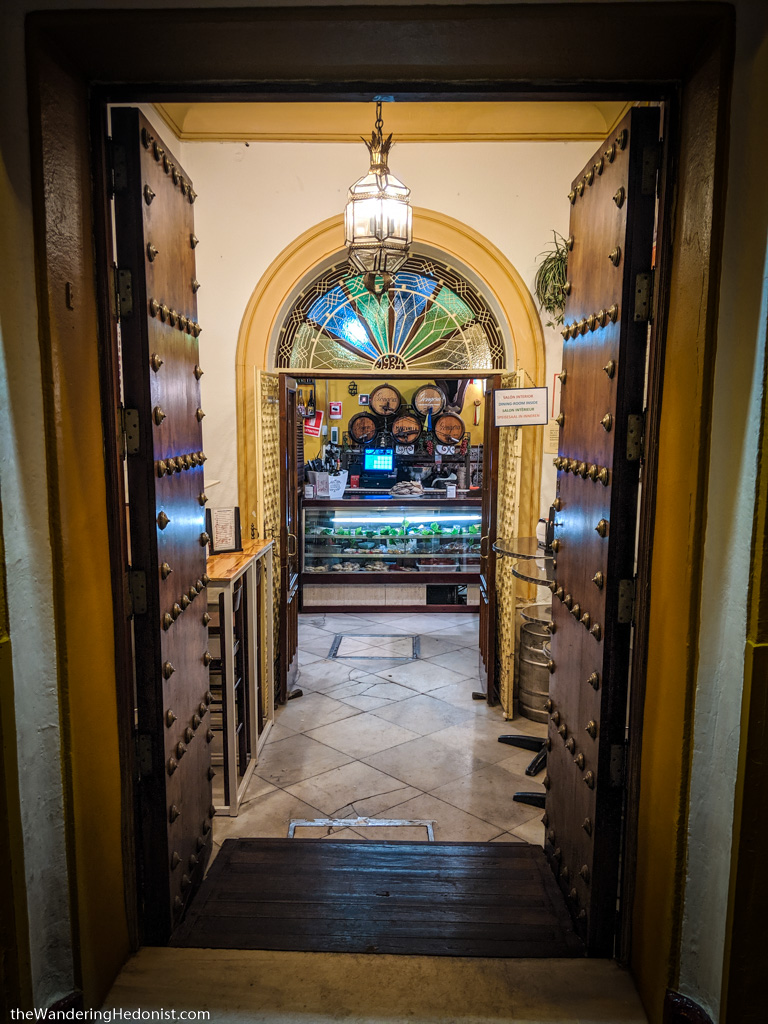 Bodega A. Romera
Our sherry tour guide swore that this place had the best bocadillos pringa in town. Pringa is a stew made from a variety of cheaper meats and odd bits cooked into a mush and here served on fresh baked bread as a sandwich. It was too crowded to get in but later that night after about ten drinks we wandered back over and tried the pringa along with some fried fish, spinach and garbanzo beans, and beef cheek.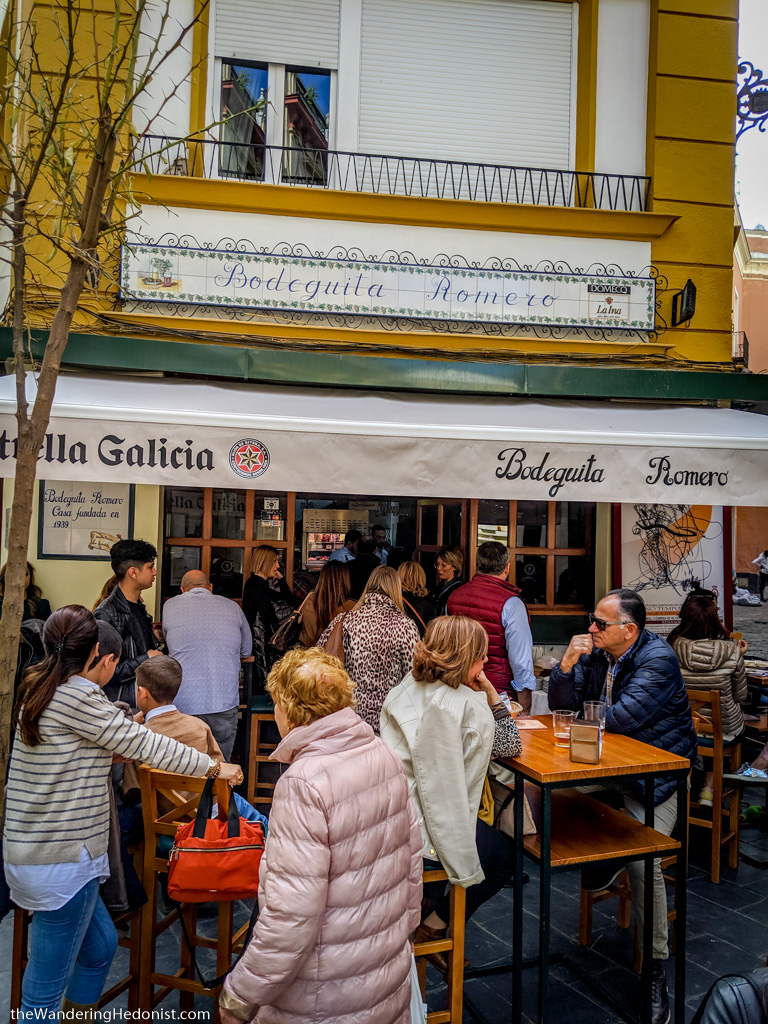 Las Teresas
Las Teresas came recommended as a good sherry place but our first attempt found it too crowded to get in. We came back for a Sunday lunch and easily found a table outside. Great food, very affordable. And the locals all know it too. Everything here was delicious. A perfect place for tapas. It's right across the street from Casa Placido (I talk about it later) and quite near the cathedral and Real Alcazar. I highly recommend it.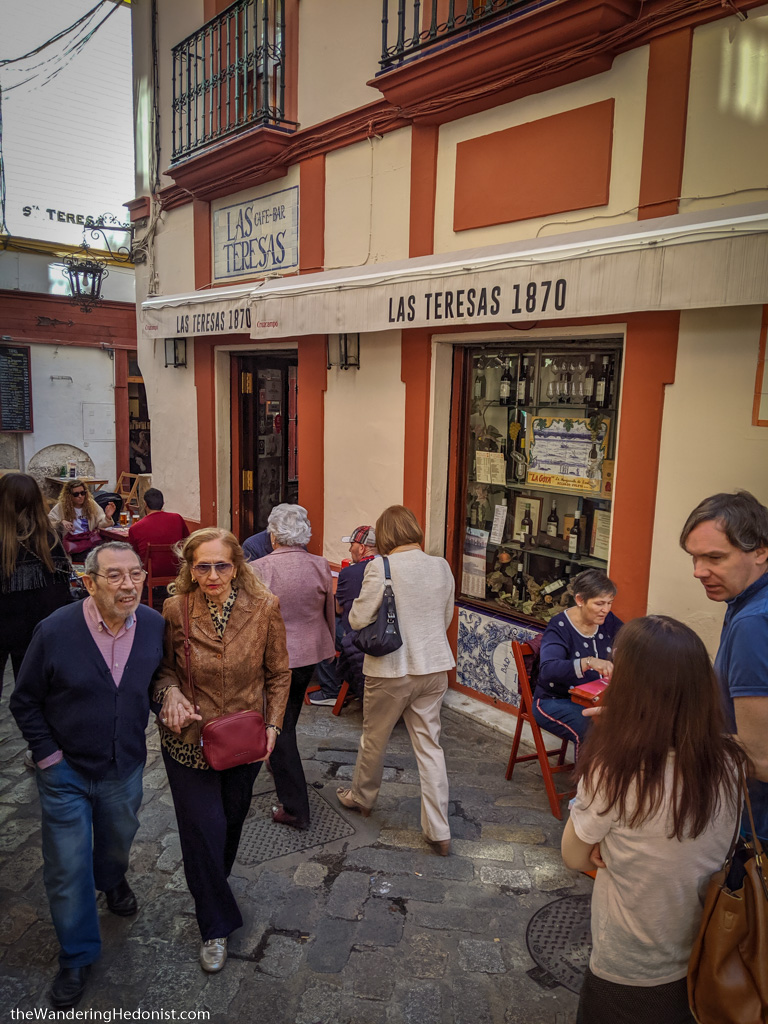 Daily Meal
In Spain, it's customary to offer a Daily Meal which is a cheap multicourse meal offered throughout the day to workers originally. It's similar to the marinda concept in Croatia. You usually get two courses of your choice along with bread, olive oil, and a drink (like wine) and sometimes a dessert for around 10-13 euros. It might not be the best dishes on the menu but we liked everything we ordered. This can be a more affordable option at the tourist joints in town. But I found that eating tapas at the more local places can be just as affordable.
El Ricon Del Kevin
We picked this place near our apartment because it was offering the Daily Meal and we wanted to try it out. It wasn't the best meal we had in Seville but it wasn't bad either. Mine was actually quite tasty. The lentils stewed with meat was yummy and filling and the fried cod bits were quite good too. With wine and bread it was a decent meal.
Casa Placido
Our second go at Daily Meal was right across the street from Las Teresas. A cute little traditional looking place with an empty table for us outside. Our sherry guide warned us against paella in Seville but I thought our was quite tasty and the meatballs were delicious. Katy's egg dish was likewise delicious. So no complaints at all. Probably the thing to remember with Daily Meal is that the dish selections are more limited than the tapas menu. Sometimes it's possible to construct a set of 4 tapas that you might like better for a similar price. But give it a go if it's an option.